Corkie Pelligrino
| | |
| --- | --- |
| Clan | Ventrue |
| Position | Harpy |
| Status | 3+2+3 |
| Domain | Ouro Preto, BR |
| Coterie | Glasswalkers |
| Society | Society of the Hague |
| Path | Humanity 000 |
| Player | Leland Bridges |
Overview
Alias(es):
Corkie Pelligrino, Lady Corkie, C, Harpycon Stitch'n'Bitch, Parrot, Princess
Real Name: Corelia Pellegrino
Apparent Age: Late 20's
Concept: Sorority Girl Mogul
Physical description:She is 6' in flats, with mid-length light brown hair that is usually worn up. She typically wears dresses or skirt and blouse combinations in dark hues with splashes of color, heels, glasses or sunglasses, and elaborate earrings, usually hoops.
Detailed Status:
Acknowledged by Prince Edward Williams of Denver, CO
Chic by Prince Vito de Prio d'Amico Inguanez Drago, Prince of Peoria, IL
Dedicatedby Sovereign Prince She That Burns as the Sun, Berkeley, CA
Influential by Position as Harpy of Ouro Preto
Well-Connected by Position as Harpy of Ouro Preto
Esteemed as Right Honorable member of The Hague.
Respected as a Scion of the Camarilla.
Dignified as a Dignitary of the Camarilla.
Character Information
Known History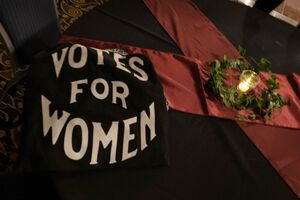 Corkie was born Corelia Pellegrino in 1905, a first generation American and only daughter of Italian immigrant parents in Brooklyn, NYC. Despite her humble background and her brothers' lack of formal education, she was well educated at the Convent of the Sacred Heart school for girls, then Syracuse University, where she was a proud member of the Beta Iota Pi sorority, at which time she adopted her preferred moniker "Corkie". In the mid 30's, Corkie abruptly relocated overseas, where she was under the employ of Mr. Charles Unsworth.
Corkie first arrived in Griffin Georgia in July of 2016, and quickly settled within Atlanta Georgia a few weeks later. She traveled to neighboring domains frequently, as well as visiting large regional gatherings.
Corkie was named Harpy of Atlanta in May of 2017, a position she served until December 2018. In November of 2017, Corkie served as Lesser Harpy of the Northeast Conclave, taking notes on the proceedings. She was seen similarly taking notes on the Judicial Conclave of the West Coast Grand Elysium in May of 2018. She served again as Lesser Harpy of the 2018 Northeast Gathering.
Corkie was Endorsed by an Advocate of the Society of the Hague in June 2018. In October 2018, she was recognized as Right Honorable member of the Society of the Hague.
In September of 2018 in Chicago, Corkie was introduced to the opening Court as a Fury.
Coterie
Glasswalkers
The Harridan's Furies

Allies
Enemies
Sire
Charles Unsworth
Childer
Margaret J Pearson
Julian Crow
Veronica Nicoletti

Broodmates
Character Inspirations
Miranda Priestley
Heather McNamara
Chanel #3
Lilith Sternin-Crane
Elsa Schraeder
Eileen Rand
Soundtrack
Michael Shannon Reads the Insane Delta Gamma Sorority Letter

You're Gonna Go Far, Kid - The Offspring

U and Ur Hand - P!nk

Where I Want To Be - Chess In Concert

Tom's Diner - Suzanne Vega

Demons - Imagine Dragons

Pompeii - Bastille

Quartet [A Model of Decorum And Tranquility] - Chess In Concert

A Smaller God - Darling Violetta

 

Up The Wolves - The Mountain Goats

The Deal [No Deal] - Chess In Concert

Devil's Flesh & Bone - Eliza Rickman

"Jersey Shore" Gone Wilde, Parts 1-5

Roundtable Rival - Lindsey Sterling

Lullaby - Loreena McKennitt

Light of the Seven - Game of Thrones

Endgame #1 - Chess In Concert

Endgame #2 - Chess In Concert

 

Look What You made Me Do - Taylor Swift

No Children (The Mountain Goats cover) - Acacia Sears

Congratulations - The Hamilton Mixtape

Endgame #3/Chess Game #3 - Chess In Concert

Blah Blah Blah - Ke$ha

Candy Store - Heathers: The Musical

An Open Letter - The Hamilton Mixtape

No Way to Stop It - The Sound of Music

Apex Predator - Mean Girls

Revenge Party - Mean Girls
Quotes
By Corkie
"...In these shoes?"
"I want five servires and a nap."
"If you displease me, you'll know."
"Well, yes, but you can't just SAY it."
"You do not have my permission to die."
"My dear, NOBODY likes a boon breaker."
"I mean, the Harridan didn't say I can't."
"Time, tide, and scandal wait for no Fury."
"Sovereign Prince McMillan didn't say I can't."
"Well... bless his heart, he's handsome and strong."
"That's a conversation for another time in comfortable chairs."
"I shall personally collect my pound of flesh directly from your back."
"A gentleman with a discerning eye for jewels is a treasure in himself."
"You can call me Mrs. Pelligrino." (In response to the question "Who's this bitch?")
"Patience, Sheriff, we are not in the Americas, things need not be rushed." - Regarding London.
"What a fortuitous night. I just got a new set of pearls for clutching. I can break them in right away."
"Love and romance aren't real, they're false constructs created by the Victorian era to sell more romance novels."
"I am quite a fan of the subject - only in so far as any Ventrue is capable of liking things. Far be it from me to be the exception from my clan."
"we're a focused and niche aspect of a position that's existed since the Camarilla began, with a different, dare I say, a more civilized arsenal of tools to draw upon." (On Furies.)
"If he's trying but has failed to succeed, do let me know. I expect him to succeed and excel in all tasks he puts his mind to." (In response to the question "Is he trying to be a bitch?")
"The concept of 'double jeopardy' does not apply within Camarilla law. As such, there is no obstruction to each entity collecting their own pound of flesh. Metaphorically speaking. I suppose."
"Their heads are lodged so. very. firmly. in the sand that their opinion vastly outweighs the necessity of survival, that their own pride is more important than controlling the dark nature inside of us, that their curiosity and impatience drives them to disregard things, like... oh, the Masquerade. I think they don't understand the importance of survival because they've never had to survive, they take it for granted. I knew antibiotics would be nothing but trouble. They take death for granted because it was never a stark reality."
"There must be something lovable about us [Ventrue], as I would not dare correct so many esteemed individuals who make up our collective fan base. If you ever figure it out, I'd love to hear the answer. The best I can figure is there must be some thrill in the challenge of getting us to let our hair down, so to speak, rumple our suits, try something exciting, all summed up in a tidy and exciting montage where we've removed our glasses and gone on a shopping trip and suddenly we have a personality through the power of commerce and friendship with the popular crowd! Or, perhaps we've become en vogue. It used to be terribly fashionable to carry small nervous dogs everywhere one went, perhaps stuffy pedantic Kings are THE thing to have on one's arm. It would explain many of the pairings I've seen at recent Regional gatherings. That must be it. Thankfully, most of us are suitably introverted and curmudgeonly that we shall be secretly relieved when we are no longer the It Girl or Man of the Hour to be lavished with attention and shown off, and we may gladly retreat from social graces to attend to our ticker tapes, ledgers, and stock portfolios."
Concerning Corkie
"Are you telling me the biggest scariest monster in the room that everything fears, is scared of this very beautiful sweet young woman? If that is the case, she is worthy."

"Corkie is in a class of her own, which all the mud-slinging jealousy in the world still fails to tarnish." - Jennica Sparrow
"I heard you was the greatest." - Chauncey Gardner
"I do so love to watch you at work." - Emrys Rothschild
"She's great. <3" - Prosymnus
"You were an excellent Harpy and now you are an awesome Fury." - José Luis Romanekels
"It is a delight to watch Corkie at work. Her words and mastery etiquette are irresistible. I have tried at times to resist her charm, and find myself quite unable to resist an opportunity to avoid engaging in her thoughtful and engaging dialog. She is, at the same time, one of your clan's greatest assets and most dangerous weapons. Because, I fear, she could disarm just about any kindred with her smile and the right turn of a word." - Vito de Prio d'Amico Inguanez Drago
"She does have a lovely form. Statuesque, really." - Adrienne Stratton "Indeed. Quite classic. Timeless beauty. Reminds me of the beaches of Venice in the 1400s, before things got all... odd for a while there." - Rook
Rumors
Single handedly brought handkerchiefs back into style in the state of Georgia, as observed by the fashionable elite.
Corkie Pelligrino enjoys using her nickname as a barometer for how to deal with other kindred. Those who take the time to get to know her are treated with respect. Those who scoff and assume she's silly as soon as "Corkie" is mentioned are treated with a thin veneer of civility over a well of contempt.
She only pretends to not speak Italian.
Definitely puts the "boss" in "mob boss."
She's bffs with Jennica Sparrow. Either that, or she has some miraculous power that allows her to grant the Gangrel woman hugs without taking claw damage.

Aegis. It's called Aegis.

She allows the local Toreador to take her shopping.
The size of her hair is relative to her status.
Is not as friendly or altruistic as her demeanor suggests...even in Kindred terms.
Has started believing her own hype. It's just a matter of time before she falls.

Have you seen her shoes? A fall is inevitable. How does she even walk in those?

Her shoes have all Toreador under her spell, and she even got them on sale!

Her shoes brought Crash & Burn out of Torpor.

Have you seen her line of shoes?

Is Sorority sisters with Amber Cargill
Has a crush on Nigel Ford

Her marriage is an elaborate ruse used to hide her true feelings for Nigel Ford. Seriously, it's the only possible explanation for her husband.

I am Prosymnus.

I am Prosymnus and so is my wife.

Corkie threatened to light an Anarch on fire and throw them off of a building.
Jennica Sparrow taught her kitten to get on the counter.

I heard Corkie's kitten taught Jennica to get on the counter.

The spray bottle is useless against both of them.

She is plotting with friends to host a croquet match in the spring. Team uniforms are mandatory.
Had a bodyguard, once. It was completely unnecessary, as Corkie can cut a bitch on her own.
A significant potion of her wardrobe is sourced from Jennica's shopping trips.
Eerie Presence? .. Or just Top Energy.
Once killed a man with a stiletto. The heel, not the knife.