Daniel Corcoran
| | |
| --- | --- |
| Clan | Ventrue |
| Position | None |
| Status | 5+2 |
| Domain | Portland, Maine |
| Coterie | None |
| Society | None |
| Path | Humanity 000 |
| Player | Brian McAloon |
Daniel N. Corcoran
Aequam memento rebus in arduis servare mentem.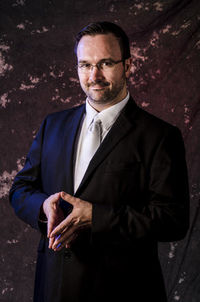 Overview
Alias(es): None known

Apparent Age: early 30's
Concept: Diplomatic Voice of Reason
Physical description: A well dressed, impeccable image is key to Daniel. When business needs dictate it, he is as comfortable in a tuxedo as he is khakis and a polo. Confident and charismatic to behold, his Natural Leadership is apparent. When speaking before groups, his charm and poise are only compounded by the rich resonance of a voice that commands respect and admiration. (OOC: Natural Leader, Enchanting Voice Merit)
Detailed Status:

Acknowledged by His Grace Alaric Dragoon
Meticulous by Her Sovereign Grace Andrea McDermott
Efficient by His Sovereign Grace Alexander P. Keefe
Noble by Caighlin Holmes
Well-Connected by Alaric Dragoon
Dignified as a Dignitary of the Ivory Tower
Respected as a Scion of the Ivory Tower
Character Information
Known History
Daniel returned to Portland in September of 2011, after having spent some time away, traveling and establishing his businesses. He arrived on the Prince's Death night with a single rose. Over the coming year, he grounded his businesses in Portland, and did what he could to establish himself in Her Grace Prince McDermott's court. First serving as a lesser Harpy under Irina Dobrescu, he assumed the role when the Nosferatu Harpy was called out of town quickly and unexpectedly. In August, the Primogen Council met and made it official, voting Daniel into office.
Coterie
None known.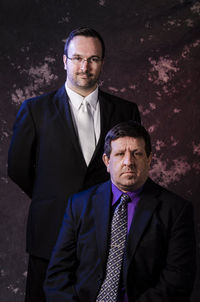 Allies
Alexander P. Keefe (Deceased)
Andrea McDermott
Harrow
Julian St.John (Deceased)
Amanda Desrosiers
Silhouette
Raphael Carmichael (Deceased)
Gary Kowaleski
Michael Gunn

Enemies
None that he would ever admit to...
Sire
Childer
Kyle Winchester
Jacklyn Clackston
Annabelle Lee
Wendy Carter
Kaito Endo


Broodmates
Character Inspirations
The Artful Dodger
Brad Pitt
George Clooney
William Compton
Oren Ishii
Soundtrack
Quotes
"Aequam memento rebus in arduis servare mentem." - Translation: Always remember to keep a cool head in difficult times.

"To lead by inspiring fear is effective for a time, but eventually someone will find a way to replace you. To lead by inspiring love and respect, people will fight for you until their last breath." - To Her Grace Prince Eiken at the Atlanta gathering, September 2012.
"Well...this just graduated from 'Mess', to 'Hot Salty Mess'...bypassing everything in between."
"One does not live next to a fountain, without some of the spray hitting your house..."
Rumors
Daniel is being targeted by the local Gangrel because of his Sire.
Daniel had a romantic relationship with Ryan Easley.
Daniel is only Harpy because noone else wants the job in his domain.
Daniel is a puppet of his sire, put in the city to keep an eye on the locals.
Daniel has appointed lesser harpies, some known, some unknown.
For such a proper, dignified King, Daniel can throw down with the best of them, and knows his way around the streets.
All of his money comes from Mafia connections.
Daniel has been jetsetting from the east coast to take root out west.
Daniel is actually a Toreador adopted and raised by Keefe.
He pissed off the Tong in Portland.
He runs the Tong in Portland.
He owns the Tong in Portland.
He has inherited his sire's hatred for incompetence.
I am Prosymnus.