Petra Grunwald-Cole
| | |
| --- | --- |
| Clan | Toreador |
| Position | Seneschal |
| Status | 5+3 |
| Domain | Atlanta, GA |
| Coterie | |
| Society | ??? |
| Path | Humanity 000 |
| Player | J. Clark[1] |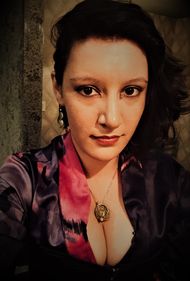 Overview
Alias(es): Petra Grunwald

Real Name: Petra Grunwald-Cole
Apparent Age: Late 20's
Concept: Reluctant Politician
Physical description: Rather tall with a stern posture when she is in work mode. When she is at play, her persona seems to fill the space she is in entirely. Long dark brown hair with olive toned skin, and rarely seen without Lucas Grunwald's rose locket around her neck. Her more revealing ensembles show a long faded scar on her shoulder blade. After a multi-month stint in the astral planes she has returned with an eerie presence centered around the broken spectrum of colors that are constantly swirling in her eyes.
Detailed Status: Acknowledged by former Prince Julius Cole
Resourceful by Sovereign Prince Charles McMillan of Atlanta, Georgia
Diligent by Sovereign Prince Charles McMillan of Atlanta, Georgia
Dedicated by Sovereign Prince Charles McMillan of Atlanta, Georgia
Dignified as a Dignitary of the Camarilla
Trusted as Seneschal of Atlanta, Georgia
Esteemed as Seneschal of Atlanta, Georgia
Cherished as Seneschal of Atlanta, Georgia
Character Information
Blush of Health
Eerie Presence
OOC: Most likely to respond to IC e-mails M-F from 9am-6pm EST.
Known History
Once she was rising star in Germany's culinary world. Her passion caught the attention of her sire upon first meeting, or the assault on her sous-chef during competition may have had something to do with it. Whatever the rationale, her 'lie, steal, cheat, kill or die' attitude for perfecting her art led her into the arms of Clan Toreador.
The tall rose devoured every lesson her sire had to offer, even finding herself a mentor in Lucas Grunwald in combat tactics. It has been suggested on more than one occasion that she inherited both his disdain for stupidity. After his death Petra kept her name hyphenated in his memory. With the passing of her broodmate Aegis Cole soon after, she was thrown into a deeper state of mourning.
After reeling from enough tragedy Petra began considering a change of scenery for herself. The wandering rose made quite a splash in the domain of her broodmate Zackary Cole while visiting with her family in 2013. She was even spotted out in public dancing with Prince Luther Rommell.
Upon the embrace of her cherished ghoul, Dr. Ion, by Clan Lasombra, she was absolutely crushed. The mere sight of him is reported to cause her pain.
After a trip to Columbus, Ohio and an extended conversation with their Keeper, she was struck with inspiration, sending the domain 7 Yoshino Cherry Trees as a token of affection. She would return again a year later to check up on her new found friends.
Initially she served in the Primogen seat of Atlanta, Georgia, a reputedly cursed spot for Toreador after David Blanchett vacated the position, as well as existence. Despite this, she was seen in numerous domains with an easy going smile, though she had been seen on the arm of a certain Columbus Gangrel on more than one occasion.
The wandering rose then made her next move, this time as Seneschal of Atlanta, Georgia. As excited as some were for this promotion, Grunwald-Cole herself seemed to be growing in ire for the boldly stupid.
Her romance with Irish, has met with a tragic end after his assassination. She has not forgotten nor has she forgiven his killers.
As wild and bold as Petra has been she met with a very sudden and unexplained silence for roughly six months between 2019 and early 2020.
After her sudden disappearance in mid 2019 the Seneschal of Atlanta has erupted from the confines of the astral plane in early 2020. An eerie spectrum of broken colors swirls endlessly in her eyes and the coquettish albeit charming rose is now more abrupt and bitey than ever after dropping her hyphenated name. Any smiles she gives these nights often do not reach her eyes as she seems largely distracted by an unseen presence whenever she is out and about. She now refuses to go by anything other than Petra Grunwald. Tread carefully.
Coterie
Allies
Enemies
Holocaust Deniers
Sire
Childer
Adam Cole - The loud one
Hunter Cole - The sweet one
Hadley Grace - The good one
Broodmates
Aegis Cole (deceased)
Ian Cole (deceased)
Character Inspirations
Quindim Buongiovanni-CHEW Comic Book
Gorden Ramsey
Hannibal Lector
The Scarlet Pimpernel
Soundtrack
30 Minute Love Affair - Paloma Faith
Give Me A Reason To Love You - The Oriones
Fakin It - Kaskade
Cleopatra In Brooklyn- Frank Turner
Just Dance - Lady Gaga
99 Red Ballons - Goldfinger Cover
Teenagers - My Chemical Romance
Cheap Thrills - Sia
Boom -Amjulie
Young and Beautiful - Lana Del Ray
Up All Night - Best Coast
Adaptation - Prozzak
Fall (The Walton Hoax Remix) - Pixel Fix, The Walton Hoax
Horizon - Andrew Rayel, Lola Blanc
Wasted - Peking Duk
Ain't My Fault - Zara Larsson
Bang Bang - Jessie J, Arianna Grande, Nicki Minaj
Low - Flo Rida, T.Pain
Quotes
"Because knowledge is power, darling, and sometimes I need more than lace and high heels to feel powerful."
"The bond broke. It hurts."
"*silent gesture, points at ear*"
"You cannot hide from me."
"As the most boring person at the table, it is now your responsibility to give us a topic of interest. See this way you can sit back quietly while the rest of us talk. Brilliant, yes?"
"Better to be a bitch than a weak Prince's cunt."
'Simply be flawless as usual, and you have nothing to worry about. If you get vexed? Well, then outshine your vexer, and get even later.'
"I am robbed of your wit I enjoyed in Ravenna."
"Performance art?"
"Here, I will teach you the German swears!"
Elder: Now you speak English. Other than being Nazi? Non.
Petra: Nein, I am not part of a defunct class of bigots. I have a question for you, how do you say, 'I surrender' in French? Or do you say it in German?
"-if you want what you cannot have then you will always have disappointment. Be like me, want what you have, then make others want you. Denial of others is sweeter than denial of self."
"Next time you wear the pants and pay for things, I already pay for limo!"
"I find better, that more interest comes from seeing, and listening, than person prattling aimlessly."
"Ms. Grunwald-Cole is an interesting individual...and persistent." - Jennica Sparrow
"The flower is bruised, but still strong and blooming." - Anonymous
Rumors
Cannot actually be told what to do.

She can be told what to do, if you pay her enough.

Enjoys the pain of losing arguments with rocksrars.
Is a fabulous co-parent with Maybelline Howe, even though they both know that Maybelline is the favorite Mother.
Her love interests all meet tragic ends.
Is irrelevant.
She is indirectly responsible for the return of Crash & Burn.
Within 72 hours of being told rumors about herself she spread the shade far and wide across Clan Toreador and acquired boons over the offending party.
Had to be paid by her Harpy not to be herself.
Once literally talked a kindred into gaining humanity.
Was given status for looking fabulous in 4 inch heels.
Is an acclaimed Nazi hunter, actively seeking the last of the surviving members of the third Reich.
Is fond of giving gifts and presents, almost as much as she enjoys receiving them.

Will be gravely insulted if they are snubbed.

Doesn't actually live anywhere, just wanders.
Is actually a Gangrel.
Doesn't actually hate Nazis, just Holocaust deniers.
Can't speak or understand English.
Has never sat through an entire clan meeting.

This is actually part of an elaborate Performance Art piece that has been ongoing for years.

Her prized possession is a piece of red sea glass given to her by Rishi Massoud
Escorted the former Prince of Athens throughout Savannah while rocking out to Avenged Sevenfold. Had no idea who he was.
Flustered the former Lady Prince of Athens by teasing her about a possible romantic interest.
It was not a tease, Petra appears to have become a Jennica Sparrow fan girl.
Petra thinks it's attractive when Jennica Sparrow is displeased.
Her true art form is creating elaborate and amusing rumors to spread about other Kindred.
He knows what she did....