Vincent Velario
| | |
| --- | --- |
| Clan | Toreador |
| Position | Deceased |
| Status | 5 |
| Domain | Baltimore, MD |
| Coterie | None |
| Society | ??? |
| Path | Humanity 0 |
| Player | Jim Gross |
Overview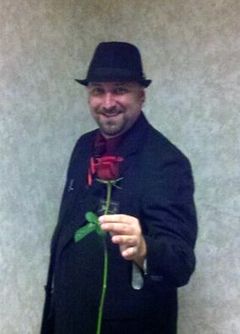 Alias(es): Vincent Velario, Vinny Vee, Vinny Bagadoughnuts, Vinny Lazarro

Real Name: Not known publically
Apparent Age: 30
Concept: Political Lounge Singer
Character Description 6'2" with dark brown hair and everchangeing facial hair. He is well built but not stocky or overly muscled
Detailed Status:
Character Information
Known History
Vinny is a famous singer who lives in Baltimore MD where he held Praxis April 2011-July 2012. He is known as a Loyal friend and a fierce fighter. He spent most of the 50's and 60's in Las Vegas as a featured singer at casinos run by the Giovanni. He then did some traveling before settling down in the Mid-Atlantic in 2005.
Allies
Deceased Allies
Enemies
The Sabbat
Sire
Childer
Broodmates
Character Inspiration
Dean Martin and the Rat Pack
Soundtrack
"I'm Gonna Live Until I Die" - Sinatra
"Out of this World" - Davis Jr
"You're Nobody Til Somebody Loves You" - Martin
"Embraceable You" - Martin
Quotes
"Sinatra? That Hack? I'm the best ever to come out of Hoboken."
"When Vinny and I actually sat down we came to an agreement, and I know him to be a man of his word and honour!" – Jed Adams 07/10/10
Random Guy: "I am looking for Bob, a friend of Ralphie's" Vinny: "Was he 6' and Black? I killed him."
Rumors
Vinny hates what people call art nowadays.
Vinny is largely disgusted by the rest of his clan for their frivolity and lack of organization.
He's biding his time as Prince. He would much prefer to be an archon.

Current and former archons think this is hysterical

Was seen in a Jacuzzi tub wearing a dress and Prada shoes.
Vinny has been heard/seen defending Ryan Easley's virtue with a fervor unmatched by most.
Vinny is in a secret relationship with Eva Luna and/or Roxy Codone
Vinny can't pull the trigger.
He has a list of Toreador he will kill on sight
He is a coward that relinquished his Praxis even though everyone was trying to help him.
Is completely insane.