Kate Davidson
| | |
| --- | --- |
| Clan | Ventrue |
| Position | Deceased |
| Status | 5+2 |
| Domain | Washington, DC |
| Coterie | None |
| Society | ??? |
| Path | Humanity 000 |
| Player | Monica Ann |
Overview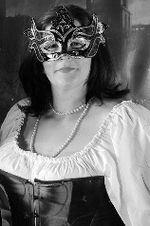 Alias(es): None public
Real Name: Kate Davidson
Apparent Age: Early 20s
Concept: Venture capitalist
Physical description: Tall. Brunette. Business-suit. Sexy librarian glasses.
Scars: Often hidden under business clothes, Kate has a long, thin scar on the back of her neck where it appears a blade cut into her.
Detailed Status:

Acknowledged - Conail Finnegan, Belfast, 1977

Tenacious, Prince Virgil Deems, 2011
Resourceful, Prince Zphonco Davinovich, 2012
Bien-Enchufada, Prince Erdota Urmen de Corazon, 2012
Enlightened, Prince Alexander P. Keefe, 2013
Feared, by position.
Empowered, by position.
Character Information
Known History
Began her Camarilla career in Berkeley, CA.
Primogen then Scourge then Primogen of Berkeley.
Moved to Washington, DC.
Became Ventrue Primogen and then Seneschal of Washington, DC.
Killed Alexander Monroe and took Praxis.
Lost her praxis to Datillo.
Became an Archon to the Ventrue Justicar, Lady Lucinde.
Was one of the prosecutors for the Brujah Princes Conclave at Midwinter 2013 along with Hugo Valentine and Adam Stonebrooke.

Allies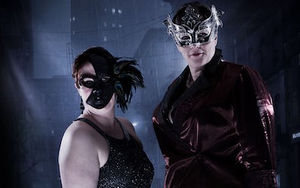 Brian Faulkner
Donovan Lewis (deceased)
Kathrin Braddock
Rylis Hannalore (deceased)
Saul Good
Victoria Rowlands (deceased)
Virgil Deems
Johnathan Gwynn
Nikolaus Athanasius
Claire Deems (deceased)
Jack Sebastien (deceased)
Hugo Valentine
Enemies
Katja Nothing
Vincent Velario
Tatiyana "Anya" Pyotrevna

She does not seem to get along with some Princes (and some former princes...)
Sire
Andrew Davidson -- The Banker. (Prestigious Sire)
Childer
Broodmates
Three lovely sisters.
Character Inspirations
Laura Roslin or maybe Starbuck
Soundtrack
The IC Soundtrack

Red
Vida la Viva
God is a DJ
Lose Yourself
Gasoline and Matches

Quotes
"Sigh." - Kate, all the time.
---
"You're much less of a pill these days, Kate." -Johnny G
---
Kate's Public Defender: "Kate, I will defend you in this for you on the condition that you do not open your mouth."
Kate's response: "Well, that's fair."
---
"I'm no good for you, Katie. I'm a rebel." - A certain annoying Archon
---
"Kate. You're so utterly hard-headed and stubborn. Because of that, I won't kill you today." - Alexander Monroe
---
"That was all fucking Kate." -- Saul Good
---
"I have said nice things about you before... I said your clothes were nice." Thomas McGrath
---
"Give me my sword and let me die on my feet!!" - Kate, herself
---
"Seriously. You? Over me? I don't get it. They made you an Archon? Seriously?" ... pause... "You're a punishment Archon, aren't you?"
---
"Nag, nag, nag, I know what I am doing!"
"You know, that never gets old." - Kate
---
"Well. Bitch touched my hair."
---
"Doing quite well, thank you. I have been working on my stammer."
---
"I gave up the weave - it gave the Brujah a handhold."
---
"Let me go."
---
"May you live forever."

Rumors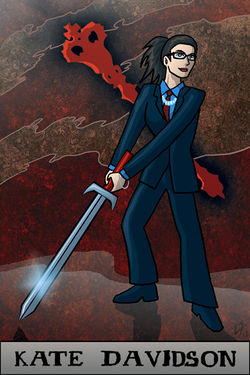 Rumored to be blood-bound to Monroe -- before she killed him.
Was asked to recite poetry to Justicar Cock Robin.
[ Insert obligatory Setite rumor here ]
Was Blood Bound to Donovan Lewis.
Threatened to kill a Prince over a girl.
Rumored to have once been blood-hunted.
She is known to love flowers.
Had a passionate relationship with Victoria Rowlands (deceased).
Named her new pet poodle "Pumpkin".
Went to a massive coke-party shortly after hearing of Elissa Maxwell's death.
Completely lost it after Claire Deems's death.
Many kindred frenzied when hearing that she was named an archon to Her Power.
Has more balls then half of the members of Clan Ventrue.
Ran out of a D.C. Movie night, looking ashen and distraught.
Has updated her Facebook page, changing her relationship status to BFFs with Kathrin Braddock
Apparently a San Jose Sharks fan, as she's been seen sporting the team's jersey.
New nickname - "The Evil Oppressor of All Brujah".
Death - Murdered by Trey McArthur
Is rolling in her grave somewhere.
Is really not dead, and is pretending to be her own childe, Mallory Weiss Davidson