Charles McMillan
| | |
| --- | --- |
| Clan | Ventrue |
| Position | Prince |
| Status | 5+7 |
| Domain | Atlanta, GA |
| Coterie | ??? |
| Society | ??? |
| Path | Humanity 00 |
| Player | Andrew Sayman |
Charles McMillan is the reigning Sovereign Prince of Atlanta, Georgia.
Overview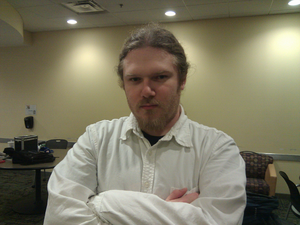 Alias(es):

Real Name:
Apparent Age: 22
Concept:
Physical description:
Detailed Status:

Acknowledged by Former Prince J. Benison Hodge of Atlanta
Influential by Former Prince Dolen of Atlanta
Loyal by Former Prince Scott Daine
Tempered by Justicar Lucinde
Undaunted by Prince Virgil Deems of San Francisco
Famous as Prince of Atlanta
Well-Known as Prince of Atlanta
Esteemed as Prince of Atlanta
Distinguished as Prince of Atlanta
Venerable as Sovereign Prince
Dignified as a Dignitary of the Camarilla
August as a Luminary of the Camarilla
Character Information
Known History
Claimed Praxis of Atlanta on April 1st, 2006 from Scott Daine.
Became the first North American Sovereign Prince on September 30th, 2012.
Coterie
Allies
Active
Inactive
Enemies
Beltrán de la Cueva, former Priscus. Deceased.
Raphael Montgomery, Setite Elder
Sire
Childer
Broodmates
Character Inspirations
The name Charles McMillan was chosen to be the most boring name possible.
Soundtrack
Charles McMillan YouTube Playlist
Leonard Cohen - Everybody Knows
Dresden Dolls - Dirty Business
Rasputina - Mayor
One Night in Bangkok
Underworld - Pearl's Girl
The Crystal Method - Busy Child
KMFDM - Megalomaniac
Gravity Kills - Inside
Marilyn Manson - Posthuman
VNV Nation - Chrome
Vast - Temptation
Quotes
"That's why you'uns run the Camarilla." -David Blanchett, after Prince McMillan got him to take status over getting rid of an old boon.
Rumors
He couldn't think of a reason to grant status to a new Primogen, and granted it because of her fabulous shoes.
He is a Tzimisce infiltrator into the Ventrue clan
He claimed Praxis a month before he became Prince... people didn't think he meant it the first time
Before claiming Praxis no one could remember him
He was believed at one time to be the blood bound puppet of Cora Giovanni
He seems to rely more on his wits and unconventional thinking rather than Disciplines to solve problems
He may look down on those who use magic
He may have a strong dislike for Toreador
He had a building dropped on enemies of his Domain
Prince McMillan rarely awards status, even in the midst of a siege. It may be that he is paranoid of upstarts doing to him what he did to the last Ventrue Prince.
Charles McMillan is a mastermind who wants to bring about the downfall of Clan Tremere.
Charles McMillan likes to bring a helicopter to a gun fight.
Re-affirmed the Convention of Fire, shaking hands with a Sabbat Bishop as he did so.
If a helicopter crashes in Atlanta it was probably Prince McMillan. Don't worry, he's fine. Even though he doesn't have Aegis.
Laughed once. Only once.
He and his current former seneschal get along because they are both so done with this, whatever "this" is at the moment.
Plays fast and loose with the Masquerade out of both fear and amusement.