Fernando de Aragão Lindberg
| | |
| --- | --- |
| Clan | Toreador |
| Position | Seneschal |
| Status | 6+2+1+3 |
| Domain | Piriápolis, Uruguay |
| Coterie | None |
| Society | E-Division |
| Path | Humanity 0000 |
| Player | Paulo Almeida |
Overview

Alias(es):
Nandinho, Lindberg, Lindoberg
Real Name: Fernando
Apparent Age: 25
Concept: Visionary-celebrant
Physical description: Fernando is tall (182 cm), has greenish-brown eyes, and body with defined muscles. Fernando has the Merits: "Enchanting Voice", "Baby Face", "Blush of Health", "Inoffensive to Animals", and "Sanctity"
Detailed Status:


Insightful as an Agent of E-Division
Cherished​, ​Esteemed​, and ​Trusted as Seneschal
Character Information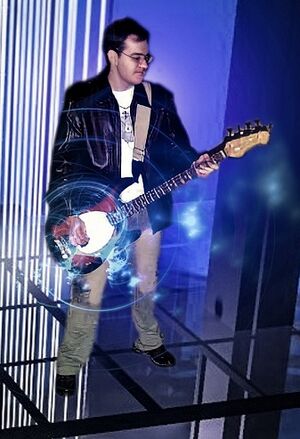 Fernando loves music above all arts. He plays bass, guitar, piano and drums.
Fernando also works with the following arts:
Expression (Poetry, Literature and Musical Compositions)
Sing
Dance (after a lot of embarrassment)
Diplomacy
Linguistics
Architecture
Plaster sculptures
Woodwork
Painting
Botany
Herbalism
Gardening
Mechanical Engineering
Robotics

Yes, he is no longer famous for being a terrible dancer.
Known History
After his Embrace, he dwelt for a while longer with his Sire. Afterwards, she decided to travel around the world, to see the places he already knew, now from the perspective of a citizen of the Camarilla. He traveled until, in 2003, his Sire called him back to help his city, Brasília/DF, face a threat.
Fernando took advantage and stayed in the city again for five years. He made allies among the Brujah, the Gangrel and the Ventrue, mainly, but in 2008 he decided to move to the city of Pirenópolis/GO, in the State of Goiás. He stayed there for approximately five years as well, until he decided to move to Uruguay in early 2014.
And in these three Cities (Brasília, Pirenópolis and Piriápolis/Uruguay), Fernando was always known for being firm with the Traditions, for defending the Camarilla with all his might, and punishing anyone who disrespected the Traditions or the Camarilla, even if they were other Toreador.
And he is *always* very discreet. Too much, for a Toreador...
Coterie
Allies (or people that Fernando would do his best to help)
Many members of his clan, that Fernando sees as his family
Enemies
Some for sure. But he hasn't cared much about them lately.
Sire
Childer
Broodmates
Character Inspirations
Soundtrack
Quotes
- Mister Black... I know you're very strong, and that blast didn't scratch you. But the next time you are hit by an explosion, let it blow you away. Don't just stand in one spot, as this can affect the Masquerade.
- Have a great night everyone.
- Again? More problem for me to solve?
- You know you don't have to join the Order of the White Lily to help the clan, don't you? You can help the clan without being part of a group. (Fernando explaining to another candidate for Squire of the Order of the White Lily, who, like the others, just wanted to use the Order to gain fame and prestige) - Toreador only.
Rumors
He has already gathered forces, allies and powers, as an Elder. But in truth, he is nothing more than a Neophyte.
He has held nearly every regular Rank that exists in a Camarilla city, minus Prince. And he doesn't seem to try at all to be Prince. What will be the reason for disinterest?
They say he is a "Shadow Player"
Toreador only - It is said that he chose to leave the Order of the White Lily because he couldn't take so much incompetence, mess, and some members more committed to personal gain than to helping the Clan.