Cheza Maxwell-Getz
| | |
| --- | --- |
| Clan | Tremere |
| Position | None |
| Status | Deceased |
| Domain | Unknown |
| Coterie | None |
| Society | ??? |
| Path | Humanity 000 |
| Player | Nny Elmore |
Overview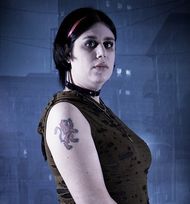 Alias(es): DJ Jew Kitten, Chessa Premysl
Real Name: Cheza Maxwell-Getz
Apparent Age: 15
Concept: Club Kid/Techno DJ/Oracle/The One Good Tremere
Physical description:
Slightly over 6 foot in height, dark brown or black short bobbed hair and warm dark brown eyes. Usually has colored streaks of a longer length worn on the right side of her head. Her personal fashion varies from school girl to cyber goth, but is most often in Kikwear pants and a t-shirt, also glitter, lots of glitter. Sometimes she has a silver fox tail, an actual moving tail, visible.
Detailed Status:
Character Information
Known History
Born in Chicago, IL to German-Jewish parents Cheza discovered at a young age her oracular ability. She also discovered techno music and raves causing her to drop out of high school to become a DJ going on tour both within the States and then Europe. It was in Bonn, Germany that she ended up first being Ghouled and then Embraced by the Tremere. Cheza remained in Bonn, Germany until November 2008 when she moved back to the US to Amador, CA.
Cheza then moved to New Haven, CA where she eventually served as Sheriff to four different Princes. She then moved suddenly to Sacramento, CA which depending on the story was either because of issues with Clanmates in New Haven, something with Lupines or because Archon Peter Premysl wanted her. Regardless Cheza has seemed to come into her own in Sacramento and even served as Sheriff under the former Prince Jackson Riley. Since Jackson's, as she puts it, murder - Cheza's demeanor has become darker and she more distant. Was last seen January 1st, 2012 until the May Gathering in Berkeley when she made an appearance in disguise. She ended up being escorted or forced off Elysium by Archon Peter Premysl to reportedly be executed, supposedly for being a diablerist. Archon Peter Premysl was later stripped of Status by the Prince for his actions in violating Elysium.
Coterie
No. However she does have an unknown number of 'friends' that she is fiercely loyal to.
Allies
And a number of other Kindred she doesn't publicize.
Enemies
Sire
Gustav
Childer
Broodmates
Nope, is an only childe as far as she knows.
Character Inspirations
James St. James
Hayley Stark from Hard Candy
Lain from Serial Experiments Lain
your 'average' teenage vampire
and lately Hanna Heller from Hanna.
Soundtrack
"All Apologies" – Nirvana
"Go All the Way (Into the Twilight)" – Perry Farrell
"Duvet" – Boa
"Halcyon + On + On" – Orbital
"Follow the Trail of Blood" – Combichrist
"Roses" – Seether
"Army of Me (Sucker Punch Remix)" – Björk featuring Skunk Anansie
"The Dope Show" – Marilyn Manson
"Shippensburg" – CKY
"The (Shipped) Gold Standard" – Fall Out Boy
"Eclipse"/"Requiem Massive"/"The Wreckoning" – Radiant-X
"Crawl" – Breaking Benjamin
"Feel Good Hit of the Summer" – Queens of the Stone Age
"You Won't See the Light" – Ryan T.Hope of The Lifeline featuring Geno Lenardo
Quotes
Frowning: "I've run out of drugs to try...that includes the Setite ones and kalif. Don't ask."
"I'd just like to grab a number of people and bash their heads into a wall, until they either get it or their brains come out...is this what it feels like to be a Brujah?"
"Oh my gods, I'd rather read a book then go through that again."
"What? I liked Twilight!"
"My mind should probably carry a disclaimer for those going to break in with Telepathy."
Quotes About Cheza
Random Tremere: "Elliot, what is wrong with your grand-daughter?"
Elliot Maxwell: "Many things. What'd she do now?"
Rumors
Wasn't actually Embraced, but rather made vampiric through an alchemical ritual.
Is bad luck to have as a Sheriff; all but one of the Princes she served lost their Praxis in a short amount of time.
Her boyfriend is a Gargoyle, it's a non sex relationship though.
Has serious daddy issues which often get directed at older male Tremere.
Often developes crushes and sexual obsessions with various Kindred regardless of Clan or gender, but never Tremere.
Gives Archons lessons in the different vampire types in pop culture references, like Twilight and True Blood.
Her growing a fox tail is actually the result of messing with an Eastern demon.
Finally went Apostate to the Followers of Set.
Was a member of Horned Society.
Was seen at the first night of the Bay Area Grand Gathering in diguise and pretending to be Saul Good's childe, was eventually taken into custody by Peter Premysl and Adam Stonebrooke.
Was the reason for Elias Beecher's fall from grace.
Gave Saul Good secrets which eventually got him killed.