Jackson Riley - Deceased
| | |
| --- | --- |
| Clan | Brujah |
| Position | Deceased |
| Status | 6 |
| Domain | Deceased |
| Coterie | None |
| Society | ??? |
| Path | Humanity 000 |
| Player | Ben |
Overview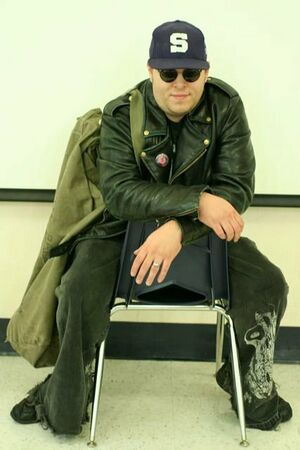 Alias(es):
Jackson "Fucking" Riley
Prince Riley
Keyser
Stupid
Ow ow my face...
Real Name: Unknown
Apparent Age: Mid to Late Twenties
Concept: Irish-Italian Fuckup from South Philly
Physical description: Motorcycle Jacket, T-Shirt, Baggy Black Jeans, Sneakers, Ballcap, Sunglasses.
Personal Status at Death:
Character Information
Prince of Sacramento
Known History
Jackson frequented New Haven, CA for some years before traveling to Sacramento in 2007 and quickly establishing himself as a Kindred of note. He served as Sheriff to Prince Haley Kincade and Prince Adrian Howl before taking the throne of Sacramento for himself on May 31st, 2008. He was killed after losing his Praxis on July 30, 2011.
Coterie
Unknown
Allies
Enemies
...you get the idea.
Sire
Unknown
Childer
Known:
Stacy Wright
David Hale
*Others are unrevealed
Broodmates
Unknown
Character Inspirations
Dominic Toretto, René Descartes, Severen, David Hume, Che Guevera, Bertrand Russell, Benjamin "Lefty" Ruggiero
Soundtrack
Quotes
"Mmmfffttt mmmfffttt snapperhead."
"Did I fucking stutter?"
Rumors
Jackson Riley belongs to a secret Coterie.
Jackson Riley is Smiling Jack's childe.
Jackson Riley is a former Anarch.
Jackson Riley is actually from Boston.
Jackson Riley is a pawn of the Tremere.
The bag that Jackson Riley always carries around has a giant snake in it.
Jackson Riley is infernal.
Jackson Riley is an apostate of Set.
Jackson Riley is a current Anarch.
Jackson Riley don't text.
Jackson Riley likes to make deals with Nosferatu.
Jackson Riley makes OK deals.