Elliott Maxwell
| | |
| --- | --- |
| Clan | Tremere |
| Position | Primogen |
| Status | 6+2+1 |
| Domain | Sacramento, CA |
| Coterie | None |
| Society | None |
| Path | Humanity - |
| Player | Lee Elmore |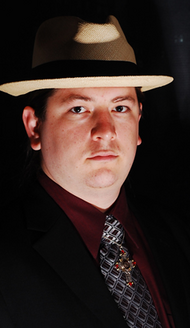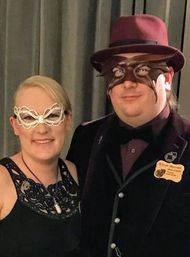 Apparent Age: 26
Visible Features: Blush of Health, Fame x 5: Occult Scholar
Concept:
Detailed Status:
Personal
Acknowledged by Prince Benedic of Las Vegas, 1964
Influential by Prince Nox of New Haven on September 10, 2010, for long-term consistent efforts to ensure the security of the Masquerade in New Haven in the absence of a Keeper of Elysium.
Well Connected by Prince Adrian du Lac of Chicago on February 17, 2015, for influential and materiel assistance against enemies of Chicago.
Well Connected by Prince Conri Sullivan of Stockton on January 5, 2019, for influential, information, and materiel assistance against hunters targeting Stockton.
Devoted by Prince Nim of Stockton on June 20, 2020 for the tireless pursuit of threats to the domain.
Valorous by Prince O'Riely on March 27, 2021 for continuously pursuing threats to the Camarilla at great personal risk.
Honorary
Dignified as a dignitary of the Camarilla.
August as a luminary of the Camarilla.
Positional
Revered as Primogen of Sacramento, California.
Character Information
Known History
Elliott Maxwell arrived in New Haven in June of 2008. Within weeks, he was named Assistant to the Keeper of Elysium and moved from there but a handful of weeks later to the position of Sheriff. He held this position for only a couple months before taking the position of Seneschal in the fall of 2008, under Prince Alejandro Patron.
Elliott Maxwell suddenly resigned his position as Seneschal and moved to Sacramento in January of 2009. Shortly after, he was named Keeper of Elysium in that domain. He held this position until late Summer 2009, when he suddenly resigned and moved back to New Haven to the position of Seneschal under Prince Heather. He held this position until he took Praxis.
Elliott Maxwell assumed Praxis of New Haven, California on October 9th, 2009 after returning from a vacation to Las Vegas. During this vacation, the previous Prince abdicated her position. Maxwell's reign was tumultuous and came to a violent end on May 21, 2010 when William Bataavas and his allies torpored him and claimed the city.
William Bataavas quickly lost his Praxis to Prokofy Romanov. Elliott Maxwell declined to serve as Seneschal to Prince Romanov, electing instead to take a position on the Primogen Council.
Just two months later, Noel Nox took Praxis in New Haven, and Elliott Maxwell agreed to serve as his Seneschal.
In November of 2010, Alejandro Patron reclaimed the city, retaining Elliott as his Seneschal. He retained this position until February 17, 2012 when he resigned as Seneschal and quickly took the position of Harpy from a newly restructured Primogen Council, following a lecture to the court as a whole about why the system of Prestation necessarily must be maintained.
Surprising to the Council of New Haven, on December 7, 2012, Elliott Maxwell resigned as Harpy in order to take up the position of Seneschal of Sacramento. He held this position until August 26, 2013, when he resigned quite unexpectedly.
On October 26, 2013, Elliott Maxwell announced to the domain of Sacramento that Michael "Cash" McCovern was no longer in a position to hold the Praxis of Sacramento and so he was claiming it for himself. A few nights later, Michael "Cash" McCovern sent letters publicly claiming he still held the domain of Sacramento. After a couple tense days, on October 31, 2013, Michael "Cash" McCovern ceded his claim to the Praxis of Sacramento, leaving Elliott Maxwell as Prince.
During the San Francisco Bay Area Grand Elysium of 2015, Elliott Maxwell stood with Sovereign Prince Deems and lent his name to removing status from Jarlslav Paseck for his egracious violations of Elysium in killing a guest on the grounds. Elliott Maxwell then became a vocal supporter of Manuela Cardoso openly supporting her through both declarations to his court and through speaking for her, and against Jarlslav Paseck at salons.
Elliott Maxwell spent his tenure acting as a de facto voice of Clan Tremere in public mediums. He spoke frequently before the Princes of the Camarilla whenever matters concerning his clan come up. He also spoke on issues relating to Justicarial over reach and in favor of the power of the Praxis. For these diplomatic efforts, coupled with the stability he brought to Sacramento, Elliott Maxwell was named Sovereign Prince on December 9, 2016. He retained this honor until September 23, 2017 when he relinquished his claim over Sacramento.
Following his abdication, Elliott Maxwell began to travel more frequently and began to call Stockton, California his home. He keeps himself busy with work for the Josians and the Tremere. He remained without a domain position until evidently giving up on retirement following the elevation of Prince Vasquez as he accepted a position on her Primogen Council. The reign of Prince Vasquez was short and ended with her assassination. By the time the dust settled, Victor Smith, Esq. had returned and Elliott relinquished the Primogency to him. Within the month, Elliott secured support to act as Harpy of Stockton. He held the role until 22 September 2020 before resigning in order to accept a calling as Archon to Justicar Lotharius.
That calling appears to have been short lived as his position as Primogen of Sacramento was announced by Prince O'Reily on 27 February 2021. When asked what happened, he tells interested parties that they must get that answer from Archmagus Lotharius. A few months later Elliott all but vanished before returning to public life in the summer of 2022. He returned to his post as Primogen in the fall of 2022.
Coterie
None known.
Allies
Enemies
It's Complicated
Sire
Not discussed.
Childer
Broodmates
None known.
Relatives
Grandaughter, Cheza Maxwell-Getz.
Character Inspirations
Soundtrack
Quotes
By Maxwell:
"Any given Kindred has precisely as much power as they can enforce."
Concept Relevant:
"A stupid despot may constrain his slaves with iron chains; but a true politician binds them even more strongly by the chain of their own ideas..." (Servan, 1761)
"Men in general judge more by the sense of sight than by the sense of touch, because everyone can see but few can test by feeling. Everyone sees what you seem to be, few know what you really are; and those few do not dare take a stand against the general opinion." ― Niccolò Machiavelli, The Prince
"Power only comes to those who are willing to lower their self to pick it up." - Ragnar Lothbork, Vikings
"For what shall it profit a man, if he shall gain the whole world, and lose his own soul?" - Mark 8:36
Rumors
I am Prosymnus
Regularly provides influence and similar support to other Tremere throughout the country.
Is involved in a romantic relationship with Archon Saskia Dietrich.
Not anymore. He dumped her.
Wait, now he's with Prince Moira O'Riely? That was fast.
Hey has anyone seen Moira O'Riely? Did something happen? Why won't he talk about it?