Carson Creed
| | |
| --- | --- |
| Clan | Brujah |
| Position | None |
| Status | 6 |
| Domain | Athens, GA |
| Coterie | None |
| Society | ??? |
| Path | Humanity 000 |
| Player | Lizzie |
Overview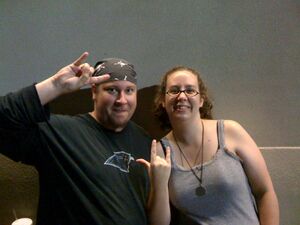 Alias(es): ~C

Apparent Age: 20
Concept: Blue collar Daddy's girl. Sword beaten into a plowshare.
Physical description:
Detailed Status:

Character Information
Known History
Coterie
Girl Scouts (disbanded)
Allies
Jesus, this list is depressing.

Enemies
Sire
Childer
Broodmates
Character Inspirations
Bud White from L.A. Confidential
Attacus Frost compared her to Juno (of the movie Juno).
Soundtrack
Daughters - Jon Mayer

Words of Wisdom - Jump Little Children

Rocks and Water - Deb Talan

Girl Sailor - The Shins

Possum Kingdom - The Toadies

Stella By Moor - Yoko Kanno

All These Things That I've Done - The Killers

Grace Kelly - Mika

I Don't Want to Be - Gavin DeGraw

Quotes
"My barometer for "what is cool" was proven flawed by my manual decapitation of a pigeon at a holiday party."
Rumors
She was killed by Sabbat in an attack on Athens in June 2012.
She was or was not infernal in 2004. She was cleared by three Justicars.
She was infernal, she just got better when the demon was cast out and she survived.
Once tackled a broodmate, tore his scrotum off, and violated him with a gun.
If Carson shows up in your domain, there will be a failed praxis.
She has no internal monologue.