Alabastor Haroukin
| | |
| --- | --- |
| Clan | Assamite |
| Position | None |
| Status | 3 |
| Domain | Baltimore, MD |
| Coterie | None |
| Society | ??? |
| Path | Humanity 000 |
| Player | Maht |
Overview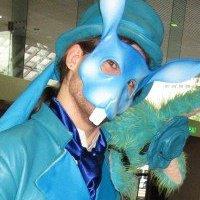 Alias(es):
The Blue Rabbit, The Black Rabbit (CoH Only: The White Owl)
Real Name: Unknown
Apparent Age: 28
Concept: The Fixer
Physical description:A tall athletic frame wrapped in pure snow white skin. His hair color is typically seen dyed in shades of red or left white. His eye color is a natural red shade.
Detailed Status:

Character Information
Known History
Alabastor first arrived in the United States on the night of the Grand Masquerade Ball in New Orleans in 2010, after which he established his residency in Baltimore and quickly set his place as Primogen for the clan with no contestion from the clan.
He is seen all over the country, hopping from domain to domain to help where he is needed. Most nights he can be found in the Mid-Atlantic, but he seems to suffer from wanderlust and will occasionally leave his domain for extended periods of time for reasons unknown.
At the Grand Masquerade Ball of 2011 in New Orleans he was seen wearing a Black Rabbit mask, leaving many speculations as to the meaning behind the mask.
At the Midwinters Ball of 2012, he was seen with Razi Massoud on his arm as his date for the evening.
Has fallen silent in recent nights for reasons unknown. No one in his domain have seen him since June 30th when he claimed to be "entertaining" a large group of clanmates.
Coterie
Cirque des ténèbres (allegedly)
Allies
Mei Lii (Deceased)
Johnny "Spades" Malone
Verlic Marr
Rishi Massoud
Lucas Grunwald
Masako Hara
Rachel Dubhan
Olivia Reed Brannon (Presumed Dead)
Julius Cole
Edward II
Marcus Cole (Deceased)
Kaylin Winters aka Hikaru (Deceased)
Razi Massoud
Bjorn Sigurdson (Deceased)

Enemies
Lucrenzia Haroukin
The Nameless One
Sire
Lucrenzia Haroukin
Childer
Broodmates
Unknown
Character Inspirations
http://www.youtube.com/watch?v=1THs1Qm_SGs
http://youtu.be/rfL71tZ_RcM

Soundtrack
Quotes
"You can't hide eyes like that from me." - Olivia Reed Brannon
"I do not have a childer. As far I am concerned, this one was embraced by a lawn chair." -His response to being told he had a childer
"You will hold your tongue, you Loyalist lawn chair!"
"I will give my strength when I have none, my body shall be the shield from the maw of the world, I shall not turn when I am needed, and in the end I am nothing, but I shall never be forgotten"
"My fury will shake the very foundation of the Eagle's Nest!"
Rumors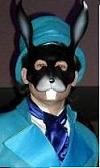 He was mistaken for the Brujah Justicar.
He is not really a Child of Haqim.
He tells Harpies to shut up.
One of his clanmates has blackmail material over him.
He is actually a Toreador.
Is not liked by his clan.
Pretends to not speak English well so that he can socially disarm potential rivals.
Alabastor was a master swordsman in his mortal life, before his hand was broken by a rival for a woman's affections. Now he avoids his former favorite weapons, and still pines for the lady.
Only two people have pulled the mask from the Black Rabbit and lived.
He is actually a Baali posing as an Assamite to steal their secrets.
Alabastor encourages a clanmate's alcoholism with the hopes he can take advantage of her.
Is the secret weapon against the Infernal, but no one can control the power inside him to use it.
Deems his children not worth remembering.
Is the alleged "Ring Master" of the Cirque des ténèbres.
If he acknowledges you as a true friend, you will die in a month.
Is responsible for Kaylin Winters aka Hikaru being infernal.
Alabastor's mild-mannered and socially awkward personality is merely the facade of a cunning and vicious predator.
He has taken Bjorn Sigurdson's place as the Einherjar Assamite.
(CoH Only) Is a loyalist infiltrator sent to the Schism by the Mountain.
(CoH Only) Allegedly earned his freedom from the Mountain dy defeating his sire in single combat