Ariana Arpad
| | |
| --- | --- |
| Clan | Ventrue |
| Position | Prince |
| Status | 4+4+2 |
| Domain | Parahyba, Brazil |
| Coterie | None |
| Society | E-Division |
| Path | Humanity 00 |
| Player | Bárbara |
Character Iinformation | Informações da personagem
Alias(es) | Pseudônimo(s)

Royalty Witch | Bruxa da Realeza



Real name | Nome verdadeiro

Public unknown. | Publicamente Desconhecido.



Apparent age | Idade aparente

Early 20s y.o. | Início dos 20 anos.



Concept | Conceito

Bibliophile Queen | Rainha Bibliófila


Physical description | Descrição física
en-us:
Ariana Arpad is a young caucasian, with intense and icy blue eyes.
Stoic face, polished posture, meticulous gestures and somber features of low humanity.
Everything about her represents extreme zeal and a slight tone of ostentation.
Routinely wears couture outfits, matching with her Louboutin classic high heels.
She is usually seen with a mourning armband and jewels with sacred motifs.





pt-br:
Ariana Arpad é uma jovem caucasiana, com olhos azuis intensos e gelados.
Semblante estoico, postura polida, gestos meticulosos e traços sombrios de baixa humanidade.
Tudo nela representa extremo zelo e um leve tom de ostentação.
Rotineiramente usa roupas de alta costura, combinando com seus clássicos saltos altos Louboutin.
Ela é geralmente vista com uma braçadeira de luto e joias com motivos sacros.

Detailed status | Status detalhados
Acknowledged by Sigwald Heinz, Prince of Bonn, Germany
Loyal by Nova Arpad, for defending Camarilla's interests in Mediasch
Efficient by Trevour Marshall, for coordinating influences on behalf of Camarilla in Parahyba
Valorous by King Arthur Arthragorn Albrecht, by her continuous efforts to ensure the Traditions and status quo of the Ivory Tower
Exalted, Famous, Well-known and Distinguished as Prince of Parahyba
Respected as a Scion of the Camarilla (Prestigious Sire Nova Arpad)
Insightful as an E-Division Agent

Reconhecida por Sigwald Heinz, Príncipe de Bonn, Alemanha
Leal por Nova Arpad, por defender os interesses da Camarilla em Mediasch
Eficiente por Trevour Marshall, por coordenar influências em prol da Camarilla Parahybana
Valorosa por King Arthur Arthragorn Albrecht, pelos esforços contínuos em zelar pelas Tradições e status quo da Torre de Marfim
Exaltada, Famosa, Bem-conhecida e Distinta, como Príncipe da Parahyba
Respeitada como Legatária da Camarilla (Senhora de Prestígio Nova Arpad)
Perspicaz como Agente da E-Division
Relevant merits | Qualidades relevantes
Prestigious sire Nova Arpad | Senhora de prestígio Nova Arpad


Known History | História Conhecida
Of French-German descent, Ariana comes from a noble lineage - mortal and immortal.
To this day carries with her the nineteenth-century conservatism.
She is a widow of an Austrian Archduke.
The Queen doesn't seem to have romantic interests, on the contrary, she is pragmatic and focused on the Camarilla and the Ventrue Clan.
She is very proud of her lineage and living in Mediasch, a Transylvanian Domain ruled by her Sire for centuries, overcoming Tzimisce threats around the territory.
After Ravenna's Conclave and Nova Arpad's visit to Brazil, she came to the country at the request of Elder Jacó Pazzi and settled in the Northeast, Parahyba.


De ascendência franco-alemã, Ariana vem de uma linhagem nobre - mortal e imortal.
Até hoje, traz consigo o conservadorismo do século XIX.
É viúva de um Arquiduque austríaco.
A Rainha não parece ter interesses românticos, pelo contrário, é pragmática e focada na Camarilla e no Clã Ventrue.
Tem muito orgulho da linhagem e da vivência em Mediasch, um Domínio na Transilvânia regido por sua Senhora há séculos, sobrepujando as ameaças Tzimisce ao redor do território.
Depois do Conclave de Ravenna e da visita de Nova Arpad ao Brasil, veio ao país a pedido do Elder Jacó Pazzi e se instalou no Nordeste, na Parahyba.

Allies | Aliados
Enemies | Inimigos
None publicly known. | Nenhum conhecido publicamente.
Bloodline | Linhagem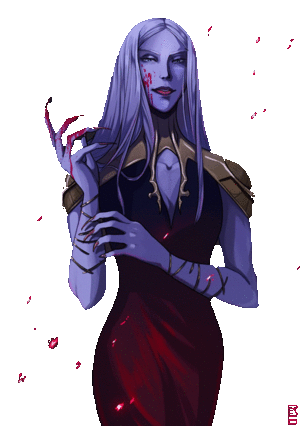 Character Inspirations | Inspirações ao Personagem
Quotes | Citações
De onde eu venho, há a Misericórdia de Mediasch: todos podem ter direito a um lugar ao sol.
Rumors | Boatos
en-us:


Due to the connections between the Arpad family and the Tremere clan, she is versed in Thaumaturgy

Has a controversial relation with Philip Pendragon

Rather be feared than loved

Her rigor is doubled when it comes to members of the Ventrue clan

Her Occult library was praised by Elder Bindusara, the Great Scholar


pt-br:


Devido às conexões entre a família Arpad e o clã Tremere, ela é versada na Taumaturgia

Tem uma relação controversa com Philip Pendragon

Prefere ser temida do que amada

O rigor dela é duplicado quando se trata de membros do clã Ventrue

Sua biblioteca de Ocultismo foi elogiada pelo Elder Bindusara, o Grande Escolar