Lothar Northmann Albrecht
| | |
| --- | --- |
| Clan | Ventrue |
| Position | Seneschal |
| Status | 11 (5+3+3) |
| Domain | The Kingdom |
| Coterie | None |
| Society | None |
| Path | Humanity - |
| Player | Felipe Godoy |
Overview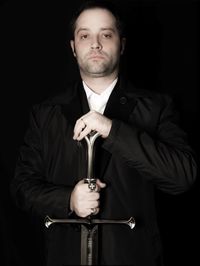 Alias(es):

Real Name: Sir Lothar Northmann Albrecht
Apparent Age: late 30s
Concept: Crusader Commander
Physical description:Appears to be close to 40 years, average height of about 180 cm, short dark hair, pale skin, stubble and eyes like wolf. In social events he utilizes stylish custom clothes, tailored, yet he does not like to wear ties.
Detailed Status:

Acknowledged by Prince Guillaume of Lichtenstein.
Feared by the words of Sir Siegfried Eisen Haxxen, due to the ferocity and cunning that he employs in combat.
Respected by Anakletos Koustopolos, by the fact that he manipulates his influences and connections, allowing protection and vigilance over dangerous enemies.
Valorous by King Arthur Arthragorn Albrecht, Prince of The Kingdom, the way he manages and maintains his Prince's order in the domains.
Honorable by J.L. Romanekels, Prince of Curitiba, for keeping his word in the face of adversity and unconditionally supporting the Camarilla.
Positional Status:

Cherished as Seneschal
Esteemed as Seneschal
Trusted as Seneschal
Honorary Status:

Respected as Scion of the Camarilla by Prestigious Sire
Dignified as Dignitary of the Camarilla
August as Luminary of the Camarilla
Character Information
Know History
He was named Seneschal of the Kingdom in 2009 and holds the position until the present day.
Coterie
Allies
Enemies
Sire
Childer
Broodmates
Character Inspirations
Sir Bedivere

The Knight of the Round Table who returns Excalibur to the Lady of the Lake.
Thomas Marshal

James Purefoy's character in 'Ironclad' movie
Sanjuro Kuwabatake

Toshiro Mifune's character in 'Yojimbo' movie
Soundtrack
Godsmack - I Stand Alone
Lenny Kravitz - Are You Gonna Go My Way?
Quotes
- Igitur qui desiderat pacem, praeparet bellum; qui uictoriam cupit, milites inbuat diligenter; qui secundos optat euentus, dimicet arte, non casu.
- Blood will run.
- Courage and Glory!
Rumors
He has a dozen of lovers in London, is why he does not come back to Europe.
He met the Pope.
They say he was a knight of the Crusades, next to King Richard the Lionheart.
He is known to have travelled extensively around the globe, meeting and seeking out society exponents for the Ventrue clan, some of whom he himself embraced.
It is common to see him visit other Domains of the South of Brazil, sometimes in two places at the same time.