Bradley Lazarion
| | |
| --- | --- |
| Clan | Tremere |
| Position | Deceased |
| Status | 6 |
| Domain | Columbus, OH |
| Coterie | None |
| Society | ??? |
| Path | Humanity 00 |
| Player | Lee Highfield |
Overview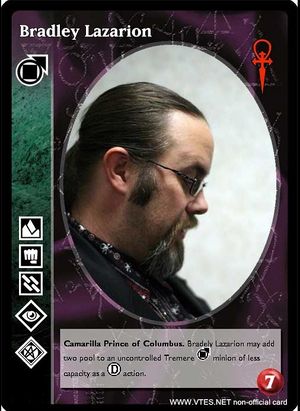 Alias(es): Bradley P. Lazarion
Real Name:
Apparent Age: Mid-Thirties
Concept:
Physical description:
Detailed Status:


Character Information
Known History
Coterie
Allies
Hugo Valentine, Archon to Justicar Lotharius
Selene Lazarion, Archon to Justicar Cock Robin, and Mom
Eric Kein, Sheriff of Columbus
Lydia Laskey, Seneschal of Columbus
Ash Williams, Primogen of Columbus
Enemies
Sire
Archon Selene Lazarion

Childer
Broodmates
Character Inspirations
Soundtrack
Quotes
Rumors
Bradley Lazarion will do anything as long as he thinks it's funny.
Bradley Lazarion suffers from paraphilia towards his Sire.
Bradley Lazarion looks like Selene Lazarion when he psychically projects himself.
Bradley Lazarion can only feed off mortals who remind him of his Sire.
Bradley is not the real power in Columbus.
Bradley is a sculptor of real skill.
Selene Lazarion poached Bradley from the Toreador Antitribu.