Ash Williams
| | |
| --- | --- |
| Clan | Gangrel |
| Position | None |
| Status | 4 |
| Domain | Columbus, OH |
| Coterie | None |
| Society | ??? |
| Path | Humanity 00 |
| Player | Jake |
Overview

Real Name: Ash Williams
Apparent Age: 25

Concept: Twisted Loyalist
Physical description: Tall, longish hair, fair -skinned, usually wears solid colors, a cross necklace, and sunglasses to cover his yellow eyes.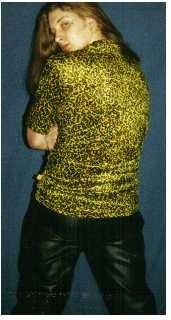 Detailed Status:
Acknowledged
Loyal (Michael Heartsblood)
Destroyer of Nottingham (Hugo Valentine)

Character Information
Known History
Has been a resident of Dayton and Columbus.
Has traveled to New Orleans.
Has served as Sheriff, Harpy, and Primogen of Columbus, OH

Coterie
"I'm in the best coterie in the world. The Camarilla!" - Actually spoken out loud in an Officer's meeting while trying to think of something witty, then sebsequently turning beat-red.

Allies
Hugo Valentine
Bradley P. Lazarion
Donovan Lewis
Lydia Laskey
Scratch
Lance Richards
Narbe
Jennica Sparrow
Eddie Carlson
Michael Heartsblood
John Borg
Vanessa Morgan
Stick Desylvia
Cathrine Jones

Enemies
Shanghai Kelly
Clan Gangrel
Ash Williams
The Camarilla

Sire
Unknown

Childer
Kyra Blake (deceased)
Todd Plyskin

Broodmates
Character Inspirations
Ash from Army of Darkness

Soundtrack
I Don't Wanna Be Me - Type O Negative
Weak and Powerless - A perfect Circle
Down In A Hole - Alice in Chains
Check My Brain - Alice In Chains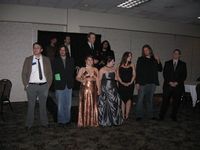 Quotes
"Hey, wanna make out?" - Said whenever a socially awkward situation arises.
"I know people like to get all up in arms about the Anarchs, and sure, the Sabbat is probably getting ready for another bi-annual attack, but you know what the real problem is?" *Looks around suspiciously and whispers* "It's the niggers..... they're EVERYWHERE!" - Overheard while antagonizing a new, meek-looking, and unsuspecting kindred in Columbus (Note: Quote of character, not opinion of player.)
"I was sure that after Chicano's praxis my career in the Camarilla was over. Let's get the fuck inside. I don't want any of these fags jerking off to us in the bushes."
"It's nice to see a friendly face Vanessa. Sorry my whole rape thing didn't work out so well on that last project. I was sure I was going to get a few good shots in on that wayward clanmate of mine."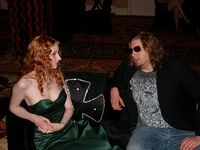 Rumors
Is terrified of spending eternity slowly turning into a beast.

Has literally been run out of every Domain he's lived in.

Most hated gangrel in Ohio. Possibly even the midwest.
Has an awkward crush on a clanmate.

Is Blood Bound to Hugo Valentine.

Bedwetter.

Tries to prove that he is superior to other Gangrel by using logical fallacies.

Ash Williams thinks that Frenzying is a sign of weakness.

Ash Williams and Jennica Sparrow spent an entire evening howling at the moon during a Grand Elysium.

Ash enjoys making people feel uncomfortable in social situations. In his mind, he's keeping score, him versus the world.
He will challenge anyone anytime and anywhere to a duel.

Ash Williams has five Doctorates.

Is blood contracted to the Tremere.

Prefers to diablerize clanmates.

Hates Anarchs and killed his first childe for being one.

Is a Caitiff.

Fingered Lydia Laskey.

Ash is the alternate personality of an elder Malkavian. He prefers a good gunfight to an animal-form throwdown, not because he is more "civilized" than other Gangrel, but because his subconscious mind is protecting him from evidence that might shatter his perception of himself.

Was humiliated by Victor Von Steinawitz in a tournament to become the Sherif of Columbus.

Ash is a failed pro wrestler.

Overcompensates. Constantly.

Ash Williams writes emo poetry. Any time someone finds out, he kills them.
Upon hearing a rumor that Jennica Sparrow has sired several childer over the centuries, Ash grew incredibly jealous--he is now plotting some means of getting adopted.