Trevour Marshall
| | |
| --- | --- |
| Clan | Nosferatu |
| Position | None |
| Status | 4+0 |
| Domain | Parahyba, Brazil |
| Coterie | None |
| Society | None |
| Path | Humanity 0000 |
| Player | Phillippe Rocha |
Overview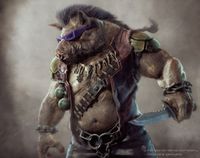 Alias(es): Trevour Marshall
Real Name: Unknown
Apparent Age: Varies
Concept: Camarilla Paladin
Physical description: Trevour has a gray skin, the skin has cracks and seems like a rhinoceros, long fingers, Sunken eyes, no body hair, just a few tufts on the head, shine eyes of different colors, scars on his head, Tusks like a boar, Big and heavy ears, his nose is something like ​Pig or Bat Snout. He has a strong body.
Detailed Status:
Acknowledged by Almérico, former Prince of Ouro Preto
Valorous by Dom Adaucto, former Seneschal of Parahyba
Dedicated by Comendador Neves, Primogen of Parahyba
Insightful by Santana, Primogen of Campinas

Character Information
Known History
Former Depute of Ouro Preto

Former Prince of Parahyba Domain 2015 and 2016

Coterie
Unknown

Allies
Comendador Neves
Xanha
Zulu
Gary Kowaleski
Mac
Joanes Nemo
Silhouette
Miguel Alvarez
Arthur Rocha

Enemies
Jericó [Deceased]
Açoite [Deceased]
Batista [Deceased]
Lucca [Deceased]
Membira Luison
Black Spiral Dancers
Garous
Daeva

Sire
Alitat

Childer
Unknown

Broodmates
Unknown

Character Inspirations
Soundtrack
Quotes
"This is for Roger!" before killing Jericó, an infernalist leader.
"Kill them all." When Setites asked for hospitality in his domains.

Rumors
Trevour does not like Setites.

Trevour's an agent in the Serviço Nacional de Informações during his mortal life.

Trevour keeps the heads of old enemies he has slain as souvenirs.

Trevour has clones, he's everywhere.
Trevour has putted an end in the BlackSpiral Dancers and a big Sabbat threat in Campinas that tried to hide in the underground.

Trevour has everything that you're looking for.
Trevour is a living library of the supernatural.