Steven
| | |
| --- | --- |
| Clan | Brujah |
| Position | Sheriff |
| Status | 2+1 |
| Domain | Berkeley, CA |
| Coterie | None |
| Society | None |
| Path | Humanity 000 |
| Player | Rob Williamson |
Overview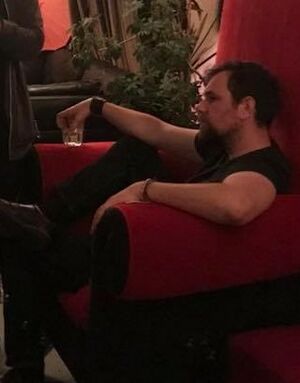 Real Name: Steven
Apparent Age: Late 20's
Concept:
Detailed Status:
Acknowledged
Bold - From Prince She Who Burns Like the Sun
Feared - (Sheriff)

Character Information
Known History
Steven is very close-lipped about his past. Most of what is know is that he was embraced as a university student in Glasgow in 1952, but beyond that he shares very little beyond his recent history. He has revealed that at one point he had a ghoul, but it did not end well. He has held the position of Sheriff for most of his time in Berkeley and considers it an honor to serve under Prince Sunny.
Deputies
Guillermo
Trashman

Coterie
Allies
Enemies
Spot (Deceased)
Anton
Ronnie Spikes
Sire
Not publicly known, although he does not speak kindly of his sire.
Childer
None.
Quotes
"I'm more like a hammer. An' everythin' is nails."
"D'yeh know wha' happened the las' time I drove?"
"Oh, f'r fuck's sake!"
"Ronnie Spikes!"

Rumors
- May have been exiled from Glasgow due to his bloodlust.
- May have wandered across multiple continents.