João Caneca
| | |
| --- | --- |
| Clan | Brujah |
| Position | |
| Status | 6+2 |
| Domain | Pirenópolis, Brazil |
| Coterie | None |
| Society | ??? |
| Path | Humanity 00000 |
| Player | Daniel Desastrado |
Overview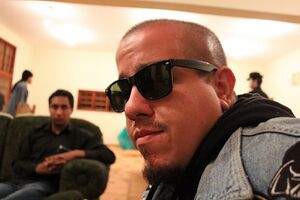 Alias(es): João Caneca, John Mug, Bule, Xícara
Real Name: Caneca
Apparent Age: 33
Concept: Highway Biker Bar Owner
Physical description: Average height, brown eyes, beard and hair (with a red hair lost here and there), changing from long hair with full beard to all shaved (except for the goatee), fat, strong with a clumsy walk.
Detailed Status:

Feared and Empowered for his position as Archon to Justicar Jaroslav Pascek
Bem Conectado por Dual Black/Well Connected by Dual Black for his diplomatic actions between camarilla and anarchists (abdicated)
Character Information
Known History
Lived a long time in the Brazil´s Center-West region. Most known around there for his bar called "Bar do Caneca" (Caneca´s Bar), a place near the highway always welcoming motorcycle clubs and independent travellers.

Has his business and supposed haven under the domain of Pirenópolis, but he usually says his real home is the road, or, sometimes, Alexânia and Abadiânia (small cities along the highway). He said for many times that his obligations with the Pirenópolis Domain and with the neighbor domain of Brasília are done by protecting those small cities and for long time he was happy just doing that and helping the Camarilla authorities, or his clan, when in need.

Since he was born in the region, many times he was sought for advice by younger members or at least new people on the domain. He receives anyone in his drinking joint with a smile and sometimes with good wisdom, sometimes with dumb ideas.

In the last years he has been bothered more than normal, making him to take a more active position in the Court and inside his clan.

Since the disappearing of Mr. Halisson Milhomem, a Toreador and former Pirenópolis´ Harpy, João Caneca talked to the primogen Council and the Prince at the time and took the position for himself, so far.

He was on the big attack in Caxias do Sul, which did put to an end to the menace posed by the brujah elder Patrick de Laman, who was corrupted by the infernal forces, and a few weeks after this "event" he was declared in Brazil as an archon in training.
Allies
Enemies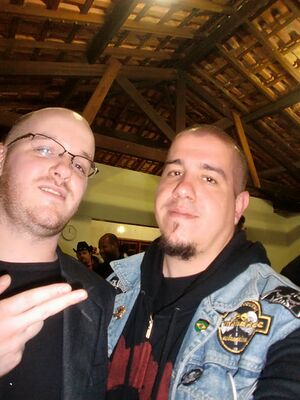 Sire
Draconys Kracov - ex-Prince of Brasília (deceased)
Childer
Bob Red De La Sorte (deceased)
Broodmates
Character Inspirations
Soundtrack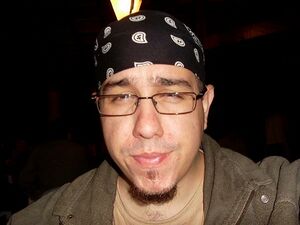 Quotes
"Obrigado Omar. Você era muito doido e fazia nossos amigos terem medo" - sobre a morte do Filho de Haqin, Omar;

"Thanks Omar. You were very crazy and made our enemies be afraid" - about the death of the Children of Haqin, Omar;


"(...)mas deixo meus votos de que os infernalistas logo sumam do mapa, para que voltemos a dar na cara do sabá como antigamente." - Sobre a Convenção de Fogo

"(...)but I leave my best wishes that the infernalists get lost soon, so we can go back to slap the sabbat as in the old days" - About the Convention of Fire


"Sinto como se fossemos um grupo de D&D de 10o nível indo atrás do Tarrasque e acredite, isto não é bom."

"I feel like we were a D&D group of 10th level going after the Tarrask and believe it, it´s not good"


"Ao menos os infernalistas serviram para uma coisa: agora sabemos que ainda temos uma alma para perder"

"At least the infernalists were useful for one thing: now we know that we still have a soul to lose"


"O Caneca é um cara sério. Tenho alguma simpatia por ele. Mas o arconte Caneca, como todos os outros, é somente mais um peão manipulado pelos seus pares."

"Caneca is a serious guy. I have some simpathy for him. But the Archon Caneca, as all others, is just another peon manipulated by his peers"
Aquiles, Líder Anarquista/Anarchist Leader

Rumors
Was one of the kindred that went to New York to kill Zio!´s murderer
Was one of the kindred that went to Hartford to kill Portus, multiple charges
Was one of the kindred that went to João Pessoa to kill Cícero Tatu, multiple charges
Was one of the kindred that went to Duque de Caxias to kill Patrick de Laman, charged of infernalism
Killed Carlos Moura, charged of treason, making alliance with the sabbat, endangering humans and Elysium
Killed Felikes, o Ravnos, charged of making alliance with the sabbat
Cut the hand of Lex Al Leon to make him drop a demon possessed dagger. Lex fully understood Caneca reasons and they are still friends.
Wants to catch a malkavian called Chico Santo, infernalist, responsible for the death of Draconys Kracov, former Brasília´s Prince
Chooses bikes over airplanes
Doesn´t like heights
Is afraid of Malkavians
Became a new person after having the honor of meeting Justicar Maris Streck
Supports the Black Napalm MC
Once lost the possession of his bar in a card game to a Tremere. The Tremere, gently, gave back the bar, no costs
Has his real haven inside a female prison
Is a member of the "Firma"
Gossip says he is or is related to Frei Caneca (Friar Caneca), a XIX century religious man and politician
Some say he shared some weed with Justicar Art Morgan
Uses unorthodox methods to approach sieges
Works constantly with Archon Amaro Coutinho