Castro
| | |
| --- | --- |
| Clan | Brujah |
| Position | None |
| Status | 3 |
| Domain | Litoral Catarinense |
| Coterie | None |
| Society | ??? |
| Path | Humanity ??? |
| Player | Samir Libos |
Overview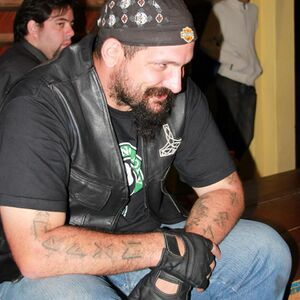 Alias(es):
Castro
Real Name:
Apparent Age: 30+
Concept: 1% Biker , Vigilante
Physical description:Tall , bulky, bald , bearded and mean.
Detailed Status:
Aknowledged by Alonso, former Prince Valley of Itajaí.
Fearless by Luigi Falcone, Prince of Litoral Catarinense.
Feared by Luigi Falcone, Prince of Litoral Catarinense.

Character Information
Known History
Fought the Paraguaian War , Federalist and Armada's revolt and Canudos War while mortal.

Was embraced and spent his early years as anarch. Was acknowldged by Prince Valerie de Lamare , in São Paulo some year's later.

Founded the Camarilla Domain of Londrina in the 40's , attended Curitiba's Conclave in 2000, met Prince Robert Wolf and moved from Londrina to Itajaí. Was Prince of Itajaí after him , Bloodhunted Portus, was present when Curitiba fell to the Sabbat, lost his city that same week , and took it back with Anarch and Portus' help.

Left his positions as Prince for Cristhus and later was nominated his Sheriff.

Was Bloodhunted in all Camarilla domains in Brazil by order of both Justicar Robert Pedder and Justicar Malaphar, by assalting Archon Lorenzo de Avis's bodyguard , also for delivering to Archon Lorenzo , Archon Aarão in torpor in the same week.

Remained Bloodhunted for almost an year , wich he spent defending the Camarila cities in Brazil's southern region from heavy Sabbat incursions.

Justicar Igor Catarinov removed the Bloodhunt later, thanks to Portus and Sarah Harald Westfold intervention.

Was last seen in 2005 , assalting the Annabelle Camponelle's heaven , an Toreador Antitribu Elder

Spent the last 8 years in torpor or unwillingly serving Annabelle until her destruction.

Was last seen back in Curitiba and Itajaí in 2012.
Coterie
former member of the Sumon Vis
Allies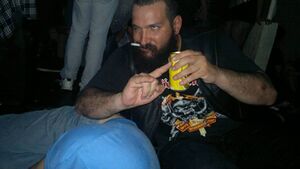 Enemies
Annabelle Camponelle
Former Archon Dom João Lorenzo de Avis
Sire
Vladmir "The Cannibal" Kairos
Childer
Malaqueus (dead)
Broodmates
Character Inspirations
The Comedian, from Watchmen
Mr Butcher , from The Boys
Soundtrack
Quotes
"IM PERPLECTED " - when perplected , whatever the hell it is .
Rumors
Is Sabbat
Is Anarch
Uses a fake moustache