Cricket Mariott
| | |
| --- | --- |
| Clan | Toreador |
| Position | None |
| Status | 5 |
| Domain | Black Hawk County, IA |
| Coterie | None |
| Society | ??? |
| Path | Humanity 000 |
| Player | Lucas |
Overview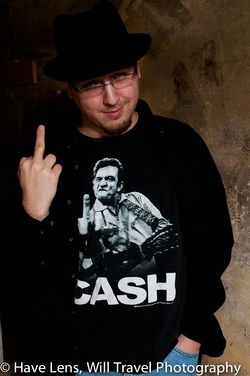 Alias(es): None
Real Name: Cricket Mariott
Apparent Age: 20
Concept: Fuckin Rock Star
Physical description:Average height and build, shaggy brown hair, often unshaven. Typically appears in public with flushed skin and breathing. Usually wears black.
Detailed Status:

Character Information
Known History
Born and raised in the suburbs of Chicago. Dropped out of high school to tour with his band. Eventually ended up singing backup for JR Lake and was embraced at the end of the tour. Left JR a while later to start his own band and spent the next few years traveling around the country with Illusions of Grandeur. Ended up in Cedar Rapids to make fun of his sire who had just been made Harpy.
Settled down in Cedar Rapids to help JR work through his domain issues, and then to help keep the ranch up when JR was taken away and eventually killed. Cricket got fed up with the political climate over the next year and eventually gave up his acknowledgement. The band broke up a while later in the storm following this choice and most of the members left town. Cricket made his peace with the prince and rejoined the Camarilla shortly after.
Shortly after, Saffron Colocott-Lake and Melinda Lake were killed and Cricket's mindset began to change. At the following Midwinter, he pushed himself to create a proper memorial and his performance manifested the forms of all those he had lost. From this point, Cricket began adopting the philosophy that he would live for those who had died, and hold those responsible for their deaths to the same standard, rather than seeking their deaths.
In the following year, Cricket became more involved in local and clan politics. He was involved in both a failed and successful praxis attempt. He held the positions of Keeper and Seneschal. He was highly involved in removing a group of troublesome Setites from the state. He began making connections in the Twin Cities amongst his clan. This trend continued for a few years until he became Prince.
He lead the city as prince for several months before he abdicated his praxis to Lena!, stating that he did not feel he was capable of handling the job at the time.
Since then, he has been touring around the Midwest and stopping by domains to visit when the mood strikes him. He recently settled down in the Black Hawk County domain where he is hoping to set up shop.
Coterie
Illusions of Grandeur (Disbanded)
Allies
(Short list of allies)

Enemies
Plenty of people who probably don't expect it
Dr. William Thornton
Sire
James "JR" Lake(Deceased)
Childer
None
Broodmates
Anastasia Lake
Rebecca Lake (Deceased)
Saffron Colocott-Lake (Adopted and Deceased)
Character Inspirations
No one in particular
Soundtrack
It's My Life – Bon Jovi

I Won't Back Down – Johnny Cash

Saliva - Ladies and Gentlemen

Independence Day – Martina McBride

Lady Gaga - Applause

Garbage - Shut Your Mouth

Ben Folds - Bastard

Harvey Danger - Wine, Women, and Song

Avicii - Wake Me Up

Marianas Trench - Here's To The Zeros

Great Big Sea - Consequence Free

Quotes
"I won't back down." –Tom Petty, Johnny Cash, JR Lake, etc
"I am a willing Rose." –Jay Fisk
"I was not aware that the Camarilla had a sense of humor. Then Crickett Marriot was Acknowledged. Apparently most do not understand the joke." -Augustine St. Just
Rumors
Hangs out with Anarchs

Would rather snort cocaine off a groupie's ass than a hooker's

Can conjure the spirits of the dead

Was killed by Lena! when she took Praxis of Cedar Rapids

Was incapacitated for several months due to visions related to Moloch