Sara Durward
| | |
| --- | --- |
| Clan | Toreador |
| Position | None |
| Status | 3 |
| Domain | None |
| Coterie | None |
| Society | ??? |
| Path | Humanity 00000 |
| Player | Miranda Polsean |
Overview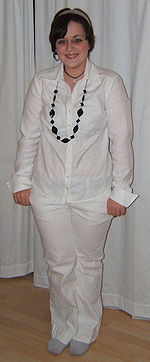 Alias(es): Megan Tringham

Real Name: Megan Harkness
Apparent Age: 21
Concept: Humanitarian Revolutionary/Critic
Physical description: She's a short, very fair-skinned Caucasian that's barely 5 feet tall. Usually seen with short brown hair, bright blue eyes, and a smile on her face. Loves to wear white.
Detailed Status:
Character Information
Known History
Sara Durward emerged shortly after Jordan Restax took Praxis of the Twin Cities, MN in 2004. She was known to be rebellious and fought with her Sire openly at first. She became whip to Thomas Rain in August of 2005.

She has held varied positions (Primogen, Keeper of Elysium, and Seneschal) for Princes: Jordan Restax (Twin Cities), Daniel Su'ven (Twin Cities), Chester Black (Twin Cities), Nicholas Waller (Twin Cities) and John Ragner (Iowa City). Starting in 2006, under Prince Chester Black's first reign, she is said to be the "Conscience" of the Princes, always trying to protect and maintain their humanity.

Few know exactly what changed her demeanor from the rebel to a visionary humanitarian, but the energy is the same in everything she does. She created a "City's Conscience" communication group in 2007 which had a few lively conversations and has recently fallen silent. She used a Life Boon over JR Lake to stop him from starting a war in Black Hawk County, IA. She attempted to reform the role of the Scourge into the role of an Ambassador in the Domain of Iowa City. She is known in mortal society as a Charity Guru (fame x5) and has raised money for numerous causes including: health care, homeless shelter restructuring, drug rehabilitation clinics, battered women's shelters, educational programs for the underprivileged, natural disaster cleanup, and for the arts in general. She created the Elysium "Fuzion" in the Twin Cities, MN in 2007, and helped design the "Clubhouse" Elysium in Iowa City, IA in 2009.

Sara has confessed at the Halloween Party in Iowa City in 2007 that she has, in fact, killed someone.

Though she is a Toreador, she never produces any Art. Instead she claims to be a Critic for the Clan. She believes herself to have an unbiased opinion as to what makes art "good", and uses her expertise in many fields to help Artistes make better Art and to learn something about themselves through the Art. She proclaims to be a translator for Art, believing it has stories to tell that not all can hear, especially the Artiste. Sometimes a critique from Sara on a work of Art can turn into and impromptu psychologist appointment.

At the Nonclave gathering of 2009, Sara was one of several Toreador to strip Archon Daniel Byrd of standing for his scandalous words that "Clan Toreador is Useless."
Sara's mortal sister was Julia Harkness, of clan Malkavian, who died before Sara knew what she was.

Coterie
None
Allies
Enemies
Sire
Jordan Restax, Fame x5 Film Producer-Prestigious Sire (deceased)
Childer
None Known
Broodmates
Lyle (LL) Restax (deceased)

Raven St. Claire (deceased)
Character Inspirations
Most Disney Princesses

Dharma Montgomery: Dharma and Greg

Kahlan Amnell: Legend of the Seeker

Nancy Botwin: Weeds

Original inspiration(but has drastically changed): Sasha: Kindred: the Embraced
Soundtrack
Nickelback: "If Everyone Cared"

Neon Trees: "Secrets"

Pink: "Who Knew"

Tom Petty: "Learning to Fly"

Collective Soul: "Perfect Day"

Scarlet Haze: "Give me a Reason"

Caroline's Spine: "The Light Inside"

Three Days Grace: "Never too Late"

Collective Soul: "Breathe"
Corky and the Juice Pigs: "REMember"

Quotes
"I wear all white to balance out all the black."

Rumors
Blood bound to John Ragner.
John Ragner is bound to her.
Possesses illegal Obtenebration.
On Golconda.
Is a mortal pretending to be a vampire.
It's all just an act, and anyone that sees her true nature doesn't live to talk about it.
Doesn't have blood in her veins, she has pure sunshine.
Is so humane she's useless.
Didn't she die years ago?