Lena!
| | |
| --- | --- |
| Clan | Brujah |
| Position | |
| Status | 3+2 |
| Domain | Unknown |
| Coterie | None |
| Society | ??? |
| Path | Humanity 000 |
| Player | Caity |
Overview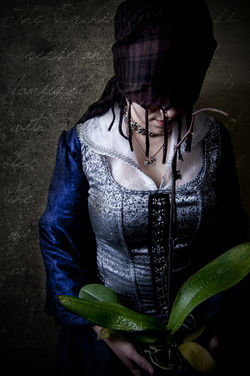 Alias(es): Archon Dido, Princess, Calamity Jane, Lil, and Lena the Barbarian
Real Name: Lilian-Evelyn Nanette Ashbury
Apparent Age: 17
Concept: Shieldmaiden
Marianne

Physical description:Lena! is 5'5" tall, she's wiry and athletically built. She has sunny blond hair with blue-green eyes and freckles that cover her entire face. Easily mistaken for a human (Blush of Health) and is known to make good first impressions (Friendly Face) Appearance x5 (Magnetic x4, Alluring x1)
Detailed Status:

Acknowledged by (former) Prince Chester Black of Twin Cities

Rational by Prince Remi Pompeii
Enlightened by Prince Bruno of Iowa City, IA
Feared As Archon
Empowered As Archon
Character Information
Like the Phoenix, she rises...
Known History
Came to Iowa in August 2008 as an Anarch.
In Autumn 2008 was sold to Police Hunters by a group of Anarchs and was saved, in the name of the Masquerade, by members of the Camarilla.
In January 2009 was taken under the accounting of Zio!.
In March 2009 received her Acknowledgement from then Prince John Ragner.
Shortly after gaining her Acknowledgement, she lost her Acknowledgement for refusal to deny Chester Black's praxis, which offended Sara Durward.
Was then taken under Chester Black's Accounting for several months.
Received her second Acknowledgement from then Prince Chester Black of the Twin Cities in Autumn 2009.
Joined Team Fail in 2009.
Gained and lost standing over several years. Served as Deputy Sheriff in Blackhawk County, Keeper of Elysium in Blackhawk County for one night, Harpy of Cedar Rapids, Sheriff of Cedar Rapids during this time.
Declared Praxis of Cedar Rapids, Iowa on the evening of June 3rd, 2011
Shortly after that was Temporary Seneschal in Iowa City for one night.
Worked closely with her clan, the Camarilla, and others during the Year of Fire.
Was Conclaved and removed from Praxis on January 18, 2013
Was made Primogen in Iowa City, IA on May 4th, 2013.
Grew her eyes back on January 16, 2014.
Resigned from Primogen of Iowa City, IA on April 24th, 2014
Named Servire to Archon Ophelia Summer 2014
Named Archon to His Arbiter Eleganciae, Justicar Titus Petronius Niger March 8, 2015

Coterie
Team Fail/Freeman (Disbanded)
Allies
Prince Tommy Truelove
Marli Giovanni
Ventris
Irish
"Slash"
Remi Pompeii
Ali Hatim Marwan
Archon Hazzan Marwan
Archon Malcolm Durrett
Ambrose Sonny Milton
Revant D'talis
"Double Barrel" Donovan Giovanni
Randall Scott
Emery Llyandryn
Michael Basil Giovanni
Daniel "Mac" McDonald
Bulvi
Autolycus Fell
Clyde Bershire
Rasputin Volnilcov
Harpy Gary Kowaleski
Isabella Rodriguez
Rayne Gry
Archon Oliver Freigh
Kit Dillon
Esteban
Edward "Eddie" Lincoln
Luni the Wise
Cricket Mariott
Sadie Court
Masako Hara
John Cutter

Misty Tyr (Deceased)
Daniel Bronson (Deceased)
Zio! (Deceased)
Matthias Blackstone (Deceased)
Nikolaus Athanasius (Deceased)
Aleister Blackwell (Deceased)
Paul Walker (Deceased)
Ambrosio Valez de Leon (Deceased)
Pinky Wheeler (Deceased)
Murray (Deceased)
Brighton Hughes(Deceased)


Elias Beecher(Presumed dead)
Noctis (Presumed Dead)

Tony Maietta(rumored Sabbat)

Enemies
Kolev
John Ragner
Sara Durward
Dugan McKinney(Deceased)

Sire
Zio!(Deceased)
Childer
Anthony "Tony!" Black (Adopted & Deceased)
Clyde Bershire (Adopted)

Broodmates
Fiona "Fifi!" LeStrange (adoptive & deceased)
Zoey! (adopted & deceased)
Foxxxy! (adoptive & missing)

Character Inspirations
MacKayla Lane from Karen Marie Moning's Fever Series
Éowyn - The Lord of the Rings
Scarlett O'Hara - Gone with the Wind
Catherine Earnshaw - Wuthering Heights
Jo Harvelle - Supernatural

Soundtrack
Quotes
"Let's be serious here Chet, you didn't want a Childe, you wanted a Princess you could lock up in a tower. And last I checked, little birds didn't fly into my haven and braid my fucking hair for me." Lena!'s comments to Chester Black a few months after she left his accounting.

"...Besides, they (Meaning Team Fail) didn't come here for me, they came here for you." - Ted Freeman's last words before he gave his life saving Lena!'s in Twin Cities.
"My earlier question having been answered, I would remind kindred that animals are more dangerous when they are wounded." -Augustine St. Just
"Justicar Streck blinded her...but not with science...I'm guessing with a pencil." -Murray
"I was just a child standing in the desert with a butterfly net and he was the oncoming storm. Nobody can harness a tempest, I understand that now." - Lena
"We always shared that void, the burden of dead loved ones. I always thought you were better than that, stronger than me. Don't look back, keep your eyes on the horizon. I will be with the ghosts, we have nothing for you... Death is unavoidable, life must be fought for." - Part of Pinky Wheeler's last letter to Lena
Michael Basil Giovanni: "Jazz music, I can appreciate Jazz music. It reminds me of a time gone by."
Lena: "It's a beautiful concept, but I think I'm disillusioned with the Jazz Age."
Michael Basil Giovanni: "What do you mean?"
Lena: "How do you feel about the Domain of Chicago now?"

"I won't say his name, saying it means he'll be remembered. He told me once I'd die alone and forgotten, but I'm still alive and he isn't. So there's that." - Lena
"I need to see a man about a horse." - Lena
"I think I prefer you like this." - Justicar Petronius
"Out of the dress and corset and in something more comfortable?" - Lena
"No no, your demeanor. I have no interest in you being somebody else. We want you for who you are." - Justicar Petronius

Rumors
Her eyes change color when she's about to frenzy

Helped her sire kill a Balrog.

Was one of the people involved in the praxis seizure against former Prince John Ragner

Buried Zio!'s hatchet into Jaroslav Pascek's desk.

Has become fascinated with death and the occult.

Was sent from the future to keep the Camarilla domains in Iowa from falling to the Sabbat.

Has been investigated by several Archons to multiple Justicars due to her behavioral issues.


This lead to a secret conclave in 2013

Her haven was destroyed by unknown assailants shortly after her conclave.

Has received numerous death threats since her conclave.


But has also had several allies come out of the woodwork to protect her.


Is best friends with Marli Giovanni and is rarely seen without her.

Was forced out of political retirement by her local clanmates.

Is a "Friend of the Family", whatever that means.

Her status was definitely affected cause she kept it up like a lovesick crackhead.

Has gone back to her party-girl ways since Midwinter 2014.


And maybe a little boy crazy.


Her former domain, Cedar Rapids, IA, has fallen into complete disarray and is now in the hands of the Anarchs.


Many believe this is a result of her no longer leading the domain.


Has been a public supporter of the Children of Haqim being granted a Justicar.

Is paying off her debt to the Toreador Justicar as an Archon.