Rosaline Stuart Santoro
| | |
| --- | --- |
| Clan | Toreador |
| Position | Keeper of Elysium |
| Status | 2+ |
| Domain | Cedar Rapids, IA |
| Coterie | None |
| Society | ??? |
| Path | Humanity 0000 |
| Player | Patricia Juhl (Kloeckner) |
Overview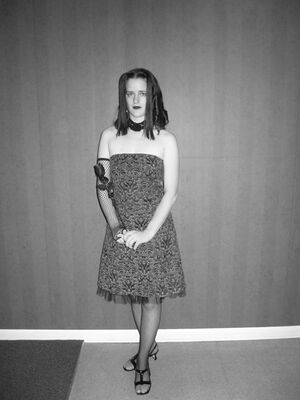 Alias(es):

Real Name: Rosaline Stuart
Apparent Age: 20
Concept: Gothic China Doll
Physical description: Standing at five feet tall, Rosaline is a petite woman. Her paler than normal skin contrasts with her black curly hair. Her hazel eyes often seem to see more than she should. As for her mode of dress, she is rarely seen in bright colors unless accompanied by large quantities of black and her style can only be referred to as Gothic.
Detailed Status: Acknowledged by Prince Blah of Savannah, Cherished by Prince Blah of Savannah


Character Information
Known History
Rosaline Stuart was born in Columbus, OH in 1972. She was a precocious artist and in 1990 she began attending the Savannah College of Art and Design. A year later she met Romeo Santoro when she began working for him at his flower shop. Her employer was a strange man who she only ever saw at night but didn't seem to pay much attention to her until she'd been working for him for close to a year. He'd come into the shop on a slow night when she'd been drawing and he had noticed her talent. He became very interested in her and began to ask her to stop by his apartment after work to show him her art. She did as he asked and eventually was embraced.
She spent the next sixteen years in Savannah with her sire Romeo, working on both her drawing abilities and flower arranging. In this time, her broodmate, Shayla Minea (later Shayla Santoro) was embraced as well. In the summer of 2008 Rose, her sire, and broodmate moved to Iowa. Romeo moved to the domain of Cedar Falls and the sisters moved to Cedar Rapids. Rose opened up her own florist's shop in Cedar Rapids entitled "Santoro Flowers," which was the usual name for all of the shops Romeo owned. Rose has remained in Cedar Rapids ever since, despite her sire's disappearance in 2009 followed by his confirmed death and the subsequent estrangement from her sister. She has often been seen as the company of local rock musician Kordell Steiner and is currently Keeper of Elysium in Cedar Rapids.
Coterie
None
Allies
Reginald Brooks (deceased)
Romeo Santoro (deceased)
Enemies
Sire
Romeo Santoro (deceased)
Childer
None
Broodmates
Character Inspirations
Loli Goth fashion
Sally from Nightmare Before Christmas
Living Dead Girl by Rob Zombie
Soundtrack
Korn - Freak on a Leash
Rob Zombie - Living Dead Girl
Nightwish - For the Heart I Once Had
Type O Negative - Black No. 1
Nightwish - While Your Lips Are Still Red
Coldplay - Fix You
The Offspring - Fix You
Danny Elfman - Sally's Song
Danny Elfman - Tears to Shed
Tatu - Clowns
Moonlight Sonata
Rose Adagio
Morningwood - Nth Degree
My Chemical Romance - Helena
Joan Jett - Bad Reputation
Tristania - Circus
Quotes
"Everyone is dying from the moment they take their first breath. I've always known this, its just clearer to me now that I'm not dying but not dead."
Rumors
Is really a blonde, she just dyes her hair every night.
Is a porn star.