Jordan Nevermore
| | |
| --- | --- |
| Clan | Malkavian |
| Position | None |
| Status | 5 |
| Domain | Kenosha, WI |
| Coterie | ??? |
| Society | ??? |
| Path | Humanity 000 |
| Player | William Erik Genich |
Overview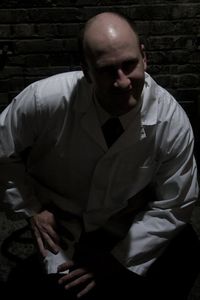 Alias(es):

Real Name: known only as Jordan Nevermore
Apparent Age: Mid-fifties
Concept: Supernatural Investigator
Physical description:
Detailed Status:

Character Information
Known History
Jordan was embraced in Gary, Indiana on the night that the anarchs took control of the domain from the Camarilla in January of 2003. He was left by sire to be raised by the Anarchs, and grew quickly to be one of the domain's strongest defenders. He left Gary sickened by the corruption in the domain, and relocated to Kenosha, Wisconsin. His Sire, Dolby, surprised Jordan with a visit in February of 2006 and brought him to the Prince for Acknowledgement. Within two months, Jordan was the Harpy of Kenosha, where he served Prince Walker with exemplary service. A year later, Paul Walker was Conclaved and Jordan retired as Harpy and took a position working as an Agent for Justicar Maris Streck. After two and a half years of service to Streck, he was made an Archon to the newly appointed Justicar Art Morgan of Clan Gangrel in October of 2009, where he served admirably until being honorably discharged from service on August 31, 2012.
Coterie
Morgan's Staff
Allies
Paul Walker (deceased)

Jeremiah Nevermore (deceased)

Matthias Warren-Nevermore

Rhys Warren-Nevermore

Bethany Nevermore (deceased)

Sebastian Marconius
Enemies
Sire
Childer
Christopher Nevermore
Julia Nevermore
Broodmates
Anna Nevermore a.k.a. Black Mariah
Character Inspirations
Soundtrack
Quotes
Rumors