Abigail North
| | |
| --- | --- |
| Clan | Tremere |
| Position | Primogen |
| Status | 4+1 |
| Domain | Springfield, IL |
| Coterie | None |
| Society | ??? |
| Path | Humanity 0 |
| Player | Erin O'Neal |
Overview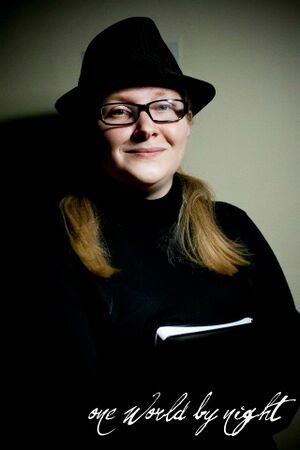 Alias(es):
Abi, The Couch Tremere
Real Name: Unknown
Apparent Age: Mid-Twenties
Concept: The Conscience
Physical description: Abigail is petite in stature, only a little over 5 feet tall, with blonde hair and blue eyes. She has the vital glow of someone who is not undead, and has a certain aura about her ((Blush of Health and Sanctity)). She often is seen wearing glasses, and typically dresses in a long sleeved black shirt and either black or dark blue jeans. When dressing up she will wear slacks or skirts and blouses, but black is almost always a color featuring prominently.
Detailed Status:

Acknowledged by Prince Edward Williams of Denver, CO
Dependable by Archon Jon-Apolo de Soult
Valued by Prince Philip Walkin
Dedicated by Prince Jesse Kesch
Revered by Position
((Tremere Only: Apprentice of the Fifth Circle, member of House Virtue))
Character Information
Abigail is soft spoken and reserved for the most part. She has been a resident of the Springfield, Illinois domain for over four years. She has a reputation as a psychologist and is a self proclaimed 'amateur botanist'. She's become more active on the local scene in the last year, first having taken up a Primogen position, and more recently taken on Deputy's duties.
Known History
TBA
Coterie
None
Allies
Clan Tremere:
Jonathan Hammer
Amaia Weiss
Edgar Moore
Philip Walkin

Others:
3D of Clan Nosferatu
Johnny Perez of Clan Brujah

Non-Camarilla:
Nick Night (aka Bulvi the Wartooth) - Gangrel Anarch, Sons of Odin
Sylvester Thompson (aka The Crimson Cloak, aka Sylvester Svidason, aka Slick)
Enemies
None known
Sire
Unknown
Childer
None
Broodmates
Unknown
Character Inspirations
Penny- Dr Horrible's Singalong Blog
Jekyll- The musical version of Jekyll & Hyde
Soundtrack
TBA
Quotes
"So you're saying the kool-aid man burst through a wall, a Malkavian embraced a faerie, and then the demon infernalist took the childe away?" - Alastarr Quinn
"Well when you say it like that you make it sound ridiculous." -Abigail after recounting a very long story involving a Malkavian 'adventure time'
Rumors
Abigail's saintly demeanor is all an act; she's actually a mastermind.

Abigail routinely turns into a giant dragon and flies around Springfield, breathing fire.

Abigail is rumored to have created a strain of roses that feeds solely on kindred vitae.

To the shock of gathered observers, Abigail used the power of nature to destroy demons.

Despite her seemingly reserved nature, Abigail was overheard being quite flirtatious at the 2013 Grand Elysium.