3D
| | |
| --- | --- |
| Clan | Nosferatu |
| Position | Primogen |
| Status | 6 |
| Domain | Springfield, IL |
| Coterie | ??? |
| Society | ??? |
| Path | Humanity 000 |
| Player | Jon D |
Overview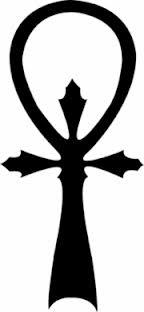 Alias(es):
Mr. D; Daniel; Polaris
Real Name:
Unknown
Apparent Age:
30
Concept:
True Traditionalist / Plumber / Humane / Witchhunter / Demonhunter
Physical description:

A description of the persona of 3D:
Very difficult to give an accurate description of 3D (ooc: Mask of 1K). One common thing that 3D wears, is a plumbers tool belt filled with tools of all sorts. He also wears a messenger bag that at times growls, and carrying heavy metallic objects. He is normally seen wearing a silk embroidered, Green Lantern shirt. He is also seen with his rosary and a necklace depicting our lord, Jesus Christ.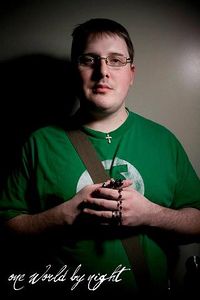 A description of the persona of Daniel:
This figure stands around 6' tall and looks to have a slender build. He is standing wearing a black, hooded robe, seems to be old and frayed at the bottom. His hands are interlocked together looking like someone is standing in prayer, a wooden rosary dangling from his hands, that seems to give off a holy aura. You can barely make out his face as the majority of it is covered up (ooc: If you have seen 3D or Daniel without mask before then you have seen this figure.) His skin looks to be that of a leper or a Nosferatu. It seems that he possesses scales along his arms and any skin that is exposed, almost fish-like (ooc: piscine). He is wearing what look to be a green sash tied around his waist, and a book tied by a chain tied to his belt. The book is titled "Rituale Romanum" those with Latin know the title is Roman Ritual. A old looking longsword with designed like the Knight's Templar hilt is on the opposite side of his book attached to the green sash. There is also a symbol placed on his right shoulder of a Green Maltese cross pattern is sewn into the black robe. (with high enough Nos Lore, it will note it is the insignia of the Order of Saint Lazarus)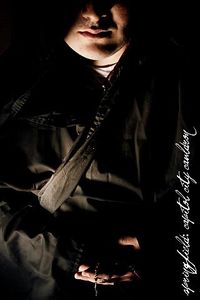 Detailed Status:

Character Information
Known History
Mid 2010 = 3D was created by his sire, Harold Banes. Harold made a childe to help reduce the stigma that the Nosferatu Bolt left in Springfield, IL.
Late 2010/Early 2011 = 3D was acknowledged by Prince Desmond Lockhart.
March 2011 = 3D was made Primogen in Springfield, IL.
July 2011 = 3D seemed to find his "faith" and put on more of a holy persona. Becoming an expert on hunting down and eradicating the infernal.
December 2011 = 3D watched the death of sire, Harold Banes, at the hands of an Infernalist named Kaylin Winters aka Hikaru.
January 2012 = Sacrificed himself to close a Hell Hole in Springfield, IL, only later claims to have been brought back by the Hand of God.
March 2012 = In Chicago, he helped eliminate three Infernalist, and in fact destroyed one with the power of his voice and faith.
August 2012 = Assisted the domain of Metro East St. Louis in the destruction and banishment of a demon.
January 2013 = Attended the Mid Winter gather.
February 2013 = Became Deputy to Sheriff Glen Young of Springfield, IL and was loaned the Loyal standing in his name. Later that same month, 3D attempted to seize praxis over Prince Desmond Lockhardt wearing Plate Armor and having individuals called Children of the Sand behind him. He was later removed as Deputy Sheriff.
March 2013 = 3D was banished from Springfield, IL for a failed Praxis seizure against Prince Lockhardt.
April 2013 = 3D obtained his hospitality from the new Prince Walkin.
June 2013 = 3D became Keeper of Elysium in Peoria, IL for Prince Elleanor Dears.
August 2013 = 3D stepped down as Keeper of Elysium in Peoria, IL under Prince Rupurt Swain.
November 2013 = 3D was given the status, Gutsy, by Prince Capricorn for defending the domain against the tainted werewolves known as the BSD's.
December 2013 = Was awarded the seat of Primogen for Clan Nosferatu in Peoria, IL by Prince Capricorn.
Coterie
Clan Nosferatu
Allies
Enemies
The Infernal, Blight, and Demons
Sire
Childer
None
Broodmates
Zona "Zoe" Crackel
Ray
Donovan Gebhard
Scrambler
Character Inspirations
Luigi (The Mario Brothers)
Space Marine Chaplain
Soundtrack
Super Smash Brothers Great Medley by Taizo Takemoto
Chevaliers de Sangreal by Hans Zimmer in The Da Vinci Code
Quotes
Someone once asked 3D why he would be good in the position of harpy. 3D replied, "Because I am Nosferatu...," the individual looked questioningly at 3D. "What is that supposed to mean?" stated the individual. 3D replied, "I know where you sleep, I know what you did last gathering, and I know three different ways to get you blood hunted in this domain." The individual just looked at 3D with big eyes, and realized the true potential and power of the Nosferatu.
Rumors
Was embraced just so his Sire wouldn't have to become a public official....
Was werewolf food at one point in time.
3D and his sire, Harold Banes, single handedly took down a Rogue Tremere, despite the entire clan Tremere in the Springfield, IL domain being unable to locate said rogue individual.
Is part of a secret Nosferatu order of demon hunters.
Watched his sire be burned alive by an Infernalist known as Kaylin Winters aka Hikaru; however, 3D assisted Prince Desmond "Dizzy" Lockhardt in her destruction.
Was killed closing a Hell Hole, and was brought back by God.
Killed an Infernalist just by the power of his voice and prayer.
Attempted to seize Praxis of Springfield, IL.