Samuel Jordan
Overview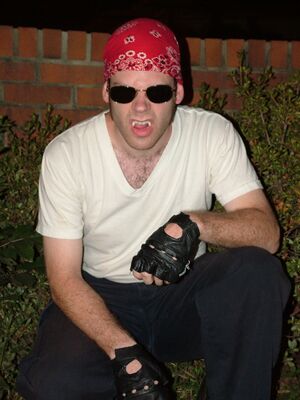 Alias(es):

Real Name: Samuel Jordan
Apparent Age: mid-20s
Concept: hiker
Physical description: White male with sideburns, sunglasses, and a little cross necklace made of rope. Usually wears jeans and t-shirts, has a Crafts x5 suit for special occasions. Uses Mask to cover his lack of Humanity, but it still shows in his body language. The picture is from 2004; he doesn't wear the bandana or gloves anymore.
Animal forms are Red Wolf and American Crow.
Detailed Status:
Acknowledged by Prince Alex Silverson of Birmingham, Alabama
Reliable by word of Prince Charles McMillan of Atlanta, Georgia
Character Information
Known History
Embraced Independent; joined the Camarilla in order to fight the Sabbat.
Coterie
Allies
Enemies
Sire
Childer
Broodmates
Character Inspirations
Soundtrack
Quotes
Someone else: "I like children."
Sam: "You shouldn't feed from children. It stunts their growth, and then you get small adults, and no one wants that."
---
Sam is with a group of Toreador who decide to call the Prince on speaker phone after going to a club.
Prince Brian Faulkner: "Are you drunk?"
Toreador 1: "No!"
Toreador 2: "Who? Us?"
Toreador 3: "No, of course not."
Sam: "I'm a little drunk."
Rumors
He has a magical ability that compels others to save him when he falls into torpor.
Sam is the most honest Kindred you will ever meet.
Sam is forbidden from ever siring childer again.
Sam completely lacks a sense of humor.