Mathilda Blackwell
| | |
| --- | --- |
| Clan | Followers of Set |
| Position | ??? |
| Status | 0 |
| Domain | San Francisco, CA |
| Coterie | ??? |
| Society | ??? |
| Path | Humanity 0000 |
| Player | Player Name |
Overview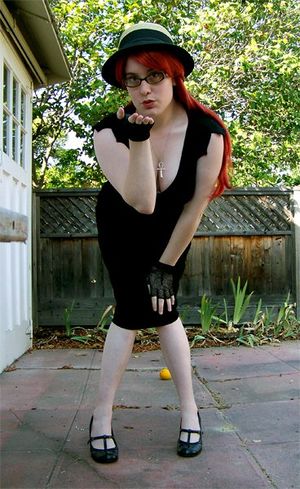 Alias(es):
Mathilda Anne Tanner-Blackwell
Real Name: same
Apparent Age: teens
Concept: latch-key kid gone wrong?
Physical description: Short and pale, long deep red hair. Delicate build.
Detailed Status:
Independent

Character Information
Known History
Mortal child of Geoffrey Tanner who was somehow Embraced Setite without his knowledge in the distant past and has not seen him since.
Coterie
Making entreaties with "The Association" of the Bay Area?
Allies
Virgilia Two-Tails seems to be "looking out for her" while she continues to enjoy Prince Virgil Deems' Tolerance.
Former boarding-school classmates with Estelle Williams

Enemies
Sire
Childer
Broodmates
Character Inspirations
Soundtrack
Quotes
"Father, I'm a grownup now and my business is none of yours!"
Rumors