Chris Bellows
| | |
| --- | --- |
| Clan | Brujah |
| Position | Fury |
| Status | 6+3+2 |
| Domain | Cincinnati |
| Coterie | Furies |
| Society | ??? |
| Path | Humanity 000 |
| Player | Danielle Frink |
Overview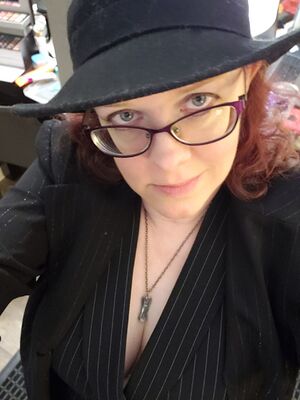 Alias(es):

Real Name:
Chris Bellows
Apparent Age:
28
Concept:
Camarilla Soldier/Brujah Individualist
Physical description:
Moderately tall, wiry, curly red hair, light blue eyes. She normally wears cargo pants and plain t-shirts, primarily in shades of green and black. Dress casual is a slightly upgraded version of her normal outfit. Wears dresses very rarely, usually at special gatherings.
Detailed Status:
• Acknowledged by Prince Michaela of New York
• Feared by Prince Alex Barthram
• Loyal by Justicar Lucian of Clan Malkavian
• Respected by Primogen Steve O'Reilly
• True by Harpy Isabella Rodriguez
• Dedicated by Prince Warrick Armitage
• August as a Luminary of the Camarilla
• Dignified as a Dignitary of the Camarilla
• Esteemed as a Fury
• Influential as a Fury
• Well-Connected as a Fury


Character Information
Known History
Raised in Hell's Kitchen as first generation Irish Catholic, Chris found herself supporting her young siblings during the Great Depression after the loss of her parents to an influenza outbreak. She was embraced in 1937.

A survivor of the fall of New York, Chris relocated to Cincinnati. She has resided in the southwestern region of Ohio since the fall of 1997, and has served as Primogen in both Dayton and Cincinnati, as well as Keeper of Elysium, Sheriff, Scourge and Harpy in Cincinnati.
Coterie
Chris was named a Fury by Harridan Yul in February 2021
Allies
Ambrose "Sonny" Milton
Corkie Pelligrino
Gary Kowaleski

Enemies
???
Sire
???
Childer
None
Broodmates
Izzy Bellows
Character Inspirations
Jane from Johnny Mnemonic
Vasquez from Aliens
Mace from Strange Days

Soundtrack
"Boogie Woogie Bugle Boy of Company B" by the Andrews Sisters
"American Woman" by The Guess Who
"Hero" by Chad Kroeger
"Break Stuff" by Limp Bizkit
"Warrior" by Scandal

Quotes
"You want us to use our political strength within the structure that you rejected to protect someone else who rejected it, but expect that to be done for nothing. Not sure how long you've been around, kid, but that's really not how any of this works."
"If you're going to bitch, at least get your facts straight."
"I didn't realize there actually was a French phrase for 'bell-bottoms.' Live and learn, right?"

Rumors