Ames de Lamare - Deceased
| | |
| --- | --- |
| Clan | Toreador |
| Position | Deceased |
| Status | 2 |
| Domain | São Paulo, Brazil |
| Coterie | None |
| Society | None |
| Path | Humanity - |
| Player | Eros |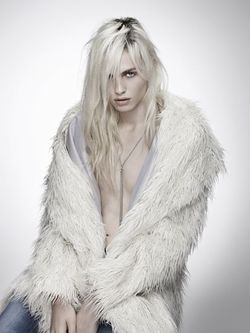 Informações do Personagem | Character Information
Pasta do Personagem na House (House's Character Folder):
Pseudônimo(s) | Alias(es)
Nome Verdadeiro | Real Name
Nenhum publicamente conhecido. | None public known.
Idade Aparente | Apparent Age
17 anos. | 17 y.o.
Conceito | Concept
Vida Encantadora | Charmed Life
Descrição Física
[Aparência x10] Bastante alto, 1,91m, e esguio como o corpo de um modelo deve ser, propriamente envolvido com uma pele delicada, como porcelana ou mármore, branca; com um rosto simetricamente marcante; profundos olhos azuis oceânicos; cabelos dourados longos até seus os ombros, cujos tamanho e cor "vira e mexe" mudam para combinar com seu opulento estilo noturno: ele só usa Haute Couture. Para maioria de seus amantes é um delicioso andrógino.
Physical Description
---
[Appearance x10] Fairly tall, 6' 3", and slim as a model body should be, properly envolved with a delicate, porcelan or marble-like white skin; with a match striking symmetric face, ocean blue deep eyes; long golden hair that goes to his shoulders, which has, color and size, changed from now and then to match his opulent night style: he only wears Haute Couture; to most of his lovers an fabulous eye-catch androgynous.
Status Detalhados
Influente por Sua Graça Divina, Madame Guil, ex-Justicar Toreador (em memória) (de acordo com o Coordenador Toreador Chad Halvorson).
Detailed Status
---
Influent by Her Divine Grace, Madame Guil, former Justicar Toreador (in memorial) (according to Toreador Coordinator Chad Halvorson).
Qualidades Relevantes | Relevant Merits
Voz Encantadora | Enchanting Voice
Líder Nato | Natural Leader
História Conhecida
Nobre francês em vida, da linhagem direta dos Reis Franceses.
Frequentou muitas negociações diplomáticas entre a França e a Inglaterra em suas primeiras noites, as quais abriram caminho para seus serviços pela Europa e Estados Unidos.
Viajou por todo o mundo em busca de novos artistas, com uma incrível capacidade de colecionar "amigos" onde quer que ele fosse.
Ele é conhecido por não gostar de terras brasileiras, na mesma magnitude que é conhecido pelo amor que nutre por sua família "de Lamare" no Brasil.
Conhecido por não ter nenhuma cria artística e se exibir orgulhosamente como um "Blefador entre os Toreador, um Mecena para a Camarilla" - como se auto-entitula. Mas mesmo assim, ele é muito conhecido por cuidar de seus artistas "protégé" como seus próprios filhos.
Chegou a São Paulo-Brasil, por volta de abril de 2018.
Known History
French nobleman in life, from direct line to French Kings.
Attended to many kindred diplomatic negotiations between France and England on his early nights, which led his services through Europe and US, mostly, through the same reasons.
Traveled world wide searching new artists, with an amazing ability to collect "friends" wherever he goes.
He is known to not be fond of Brazilian lands, on the same magnitude of the love he nourishes by his "de Lamare" family at Brazil.
Known to have no direct artistic child whatsoever and to proudly display himself as a "Poseur among Toreador, a Patron among Camarilla" - as he proudly claims himself. But even so, he's very known to care dearest for his artists "protégé" as his own children.
Arrived to São Paulo-Brazil, around April 2018.
Coterie
Nenhuma conhecida publicamente. | None publicly known.
Aliados | Allies
Inimigos | Enemies
Nenhum conhecido publicamente. | None publicly known.
Linhagem Conhecida | Known Bloodline
Ascendente | Ascendant
...?
...?
Antoine Bevouir - Senhor | Sire
Descendentes | Descendants
OoC: completamente disponível, mas apenas para personagens Blefador, por favor, contactar o jogador | totally available, but only to Poseur characters, please, contact [mailto: eros.apollo@gmail.com player].
Irmãos de Sangue | Broodmates
Inspirações ao Personagem | Character Inspirations
Citações | Quotes
"Ma Cherie, não estou afirmando que eu poderia ou não ter feito isto ... mas de qualquer maneira, não ficaria deliciada em saber o quão profundamente me preocupo com você?", Ames de Lamare
"Ma Cherie, I'm not stating that I might or not have done it... but either way, wouldn't be delighted to know how deeply enough I care about you?", Ames de Lamare
Boatos | Rumors
Ames na verdade seria Luís XV, o Amado, filho de Luís XIV, o Sol - mas se desconhece o motivo deste ocultamento.
Ames would actually be Louis XV, the Beloved, child of Louis XIV, the Sun - but it's unknown the reason of such disguise.
---
Ames na verdade foi adotado pelos 'de Lamare', pelo próprio Antoine de Lamare, assumindo assim seu sobrenome - o que explica ele não possuir o Prestígio da Linhagem, como todos os 'de Lamare' possuem.
Ames was actually adopted by 'de Lamare' family, by Antoine de Lamare himself, taking over his family's name - which explains why he doesn't have Prestige Line, as any 'de Lamare' does.