Vincenzo Rosati
| | |
| --- | --- |
| Clan | Toreador |
| Position | None |
| Status | 7 |
| Domain | St. Augustine, FL |
| Coterie | None |
| Society | ??? |
| Path | Humanity 00 |
| Player | David Talboy |
Overview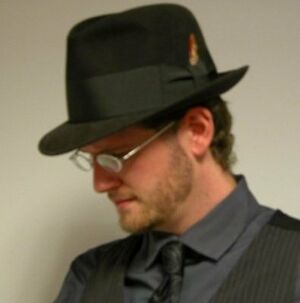 Alias(es): Enzo
Real Name: Vincenzo Rosati
Apparent Age: Mid-twenties
Concept: Italian Glassblower
Physical description: Vincenzo stands a little over 6 feet tall, with light brown hair, sometimes sporting a beard. He is almost always impeccably dressed in a three-piece suit, and wears finely crafted glasses. His heavy Italian accent is most pronounced when he enters a room, almost always with a smile on his face, greeting everyone he sees with a laugh.
Detailed Status:
Acknowledged by Prince Rafael de Corazon, 1504, Paris, France
Courageous by Prince Ethan O'Reily, 2006, St. Augustine, FL
Enchanting by Prince Jean-Michel Drébaul, 2007, Gainesville, FL
Just by Prince Leonard Flynn, 2008, St. Augustine, FL
Resourceful by Prince Liam MacGregor, 2006, Philadelphia, PA
August as a Luminary of the Camarilla
Dignified as a Dignitary of the Camarilla

Character Information
Known History
Enzo doesn't talk much about his past, other than to say that he was a Glassblower from the Isles of Murano, just North of Venice, Italy.
He came to Gainesville, FL from Paris, France and quickly became Primogen of Clan Toreador. Right after obtaining Primogenship he visited the Domains of San Francisco, CA and Philadelphia, PA. While in Philadelphia he impressed the Prince of the Domain, Liam MacGregor with his willingness to defend the domain from a Sabbat incursion.
He moved between the Domains of Gainesville, where he setup a Cultural Center and Gallery, and St. Augustine, FL, holding many positions until settling down in St. Augustine as Primogen mere months before the Domain of Gainesville was overrun with Anarchs. Later he declared Praxis on Chase Jackson of Clan Brujah due to Jackson's mishandling of Anarch aggression in St. Augustine, which he promptly pacified. His reign was short lived due to his habit of wanderlust, abdicating to Leonard Flynn of Clan Ventrue to pursue his studies.
He visited the Domain of Pensacola, FL, for a short time and found it distasteful. He was seen briefly in the Domain of Washington, DC, which he enjoyed. Recently he has settled back in St. Augustine and established The St. Augustine Cultural Arts Centre, and rebuilt a historic Steamship, The Dauntless, that was once the property of Sinjin Matamoros.
Gathering the support of the Primogen and citizens of the Domain of St. Augustine, Enzo reclaimed Praxis from the Brujah Andrew Chase on New Years Eve of 2013.
Coterie
Allies
Enemies
Sire
Childer
Chistophe Chauvin Rosati
Rayven Rosati

Broodmates
Character Inspirations
Soundtrack
Quotes
"I am covered in Shit! Do you know how expensive this suit is?"
"I blow glass! Not ass! Glass! Glass!"
"I am not going near the Tree that eats people again! I don't care if it is destroyed!"
"We are going into the sewers again? I am going to be covered in Shit!"
Rumors
Enzo killed and skinned the Setite Jefferson Davis and had enough material to make a complete outfit.
His accent is an affectation, he speaks perfect English.
Enzo is the golden standard of Toreador in St. Augustine.
Enzo keeps an Elysium on his person at all times in case of emergency.
Enzo once showed in jeans and a tshirt, claiming Casual Fridays. Most do not believe these claims.