Tanis Alsetesh
| | |
| --- | --- |
| Clan | Followers of Set |
| Position | None |
| Status | 1 |
| Domain | Black Hawk County, IA |
| Coterie | None |
| Society | ??? |
| Path | Humanity 000 |
| Player | Callie J. Paar |
Overview: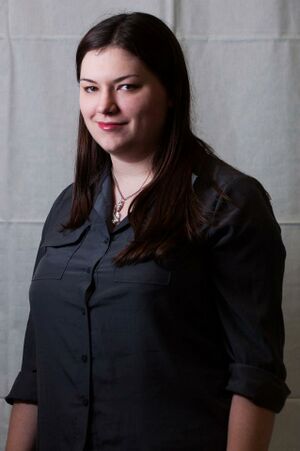 Alias(es):
None known.
Real Name:
Tanis Alsetesh is the only "real name" that she uses since her Embrace.
Apparent Age:
Mid- to late-twenties.
Concept:
Psychologist Citizen.
Tropes:
Physical description:
Tanis is a very attractive woman with a kind smile. Her dark complexion leads some to wonder if she is of Egyptian heritage as many in her clan, but the trained eye can tell that it isn't very likely. She stands roughly 5'6" and has a strong, fit build. Often her long brown hair is worn down, framing her face. Sometimes she wears her sunglasses on her head, showing her warm, knowing hazel eyes.

Obvious Merits/Flaws/Traits/Other:
Enchanting Voice, Appearance x5 (Elegant x3, Magnetic x2).

Detailed Status

Acknowledged by [Background NPC Prince in Canada]
Character Information:
In-character information regarding history, affiliations, and more.
Known History
Tanis has only spoken of her time before coming to Iowa vaguely:
As a mortal, she worked in the Metropolitan Museum of Art as a translator of ancient texts, and was Embraced when on a trip to Canada where she discovered her interest in psychology. After her Embrace, she learned that she could not return to New York due to Sabbat. She has alluded to traveling to many domains since then, and that she went from being an Independent to joining the Camarilla. The exact details, however, have yet to be shared.
2013
February: Tanis arrived in Cedar Falls, and received Hospitality from Prince Murray.
Coterie
None
Allies
Camarilla Members
Anarchs
Independents
Enemies
Sire
An Independent Setite who has probably already met his Final Death.
Childer
Broodmates
Quotes
"I hate to bring everything back to psychology, but that's kind of my thing." - At Elysium in Black Hawk County.
Rumors
Tanis' intense anger at losing the Metropolitan Museum of Art because of the Sabbat presence in New York led her to join the Camarilla, just to maximize her Sabbat kill count.
OOC Corner:
Character Inspirations
See Tropes above, in Overview.
Dr. Lance Sweets (Bones)
Dr. Gillian Foster (Lie to Me)
Patricia Hughes (Damages)
Persona 4
House of Cards
Burn Notice
White Collar
Soundtrack
In no particular order:
Saints & Sinners - Flogging Molly
Pepper - Butthole Surfers
Madness - Muse
Blurry - Puddle of Mudd
Everybody Talks - Neon Trees
Illusion - VNV Nation
A Million Ways - OK Go
Lights - Ellie Goulding
Kaleidoscope Heart - Sara Bareilles
Paint it Black - Rolling Stones
What It's Like - Everlast
Perfectly Lonely - John Mayer
The Distance - Cake
Working for the Weekend - Loverboy
Lies of the Beautiful People - Sixx:AM
Anthem of the Angels - Breaking Benjamin