Pagan
| | |
| --- | --- |
| Clan | Assamite |
| Position | None |
| Status | 3+2 |
| Domain | Western Shore |
| Coterie | The Shepherds |
| Society | ??? |
| Path | Humanity 000 |
| Player | CW |
Overview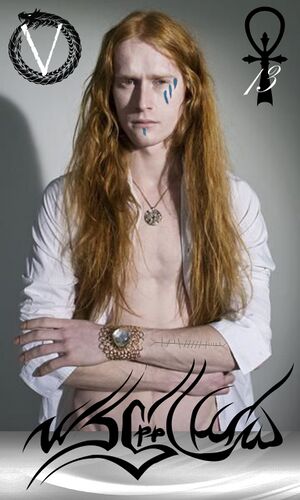 Alias(es):

Real Name:
Apparent Age: 25
Concept: Street Shaman
Physical description: Alabaster skin, long bedraggled red hair. Dumpster chic. In recent years he has been seen sporting a sleeve tattoo of swirling ink.
Detailed Status:


Character Information
Known History
Pagan claims his roots in the Celtic Druids of Ireland. While his lineage is mixed, his father being an Irishman and his mother a Traveller, his upbringing was mostly of Gaelic origin. Stories of his travels place him in many political hotspots over recent years, with locations in the modern nights such as Cuba and the Congo, however it is believed he has been active for much, much longer. Some even place him in the New World during the Salem Witch Trials, Concord, and later at the Battle of the Alamo. It is believed that he acts as a sentinel for the Children of Haqim – taking notes and observing historical events….or perhaps inciting them at the direction of the Elders of his family.
Coterie
Allies
Jakob Phuridae
Sebastian Marconius
Rahul Joshi
Maryam al-Zarq Amatel Shahid
Ali Marwan

Enemies
Berthold of Clan Ventrue
Sire
Abu ibn Al-Andalus
Childer
Olaf MacNeil
Brogan Shay
Flint

Broodmates
Character Inspirations
Kvothe, The Name of the Wind
Atticus O'Sullivan, The Iron Druid Chronicles

Soundtrack
More Human Than Human - White Zombie
Through the Roof 'n' Underground - Gogol Bordello
Roll the Bones - Shaky Graves
The Time isn't Right - Dan-O
Hell is Round the Corner - Tricky
The Pod - Hum
Codeine, Glue, and You - Chemlab
Mary Riley - The Bollox
Shimmy Shimmy Ya - Ol'Dirty Bastard
Japanese Cowboy - Ween
Tom Sawyer - Rush
Don't Stop Me Now - Queen
Major Lazer - Too Original
The Regulator - Clutch
Local God - Everclear
Loser - Beck
The Man Comes Around - Johnny Cash
White House Road - Tyler Childers

Quotes
"You may not like my methods, but you'll surely know my name."
"I'mma fucking wizard, don't tell me what I can't do."
"Tower, Sword, Movement, doesn't really matter I'm O.F.P."
Olaf: /runs in covered in blood "Uh, Dad, are you busy?"


Jennica Sparrow: "He is the most polite social deviant I have the honor of knowing."
Rumors
Is distant kin to the Ravnos Prince of Middle Georgia.
It is rumored that Pagan is only half in this world - his copious amounts of time dealing more with spirits than he does his own kind, have left an indelible mark on his psyche.
Rumor has it that he has been adopted by the Romani and is frequently found in their company.
Pagan rage quit his Assamite faction and Rroma faction.
He recently challenged The Little Monster and is still here to tell the tale.
His sire is Al-Ashrad.
He has secretly returned to the Mountain as a contract killer for hire.
Pagan is going to the Mountain with Dracula to kill Clan Assamite.
Pagan has learned from Dracula how to control Daeva.