Maximillian Sanlin
| | |
| --- | --- |
| Clan | Tremere |
| Position | Primogen |
| Status | 5+1 |
| Domain | Portland, Maine |
| Coterie | None |
| Society | ??? |
| Path | Humanity 0000 |
| Player | Eric L. |
Overview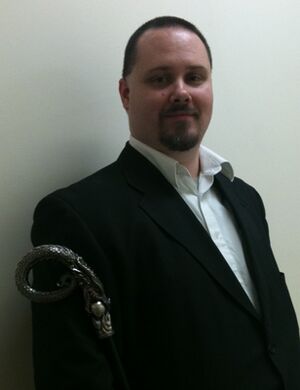 Alias(es):

Dr. Sanlin, Max Sanlin
Real Name:
Unknown
Apparent Age:
Somewhere between 30 and 40.
Physical description:

Detailed Status:


Acknowledged by former Prince Alaric Dragoon February 1957
Dedicated by former Prince Alaric Dragoon May 2007
Cherished by former Prince Alaric Dragoon June 2009
Honorable by former Prince Alaric Dragoon August 2009
Constant by former Prince Jerry Bonard March 2011
Revered by Position August 2008
Character Information
Known History
Max Sanlin entered the scene in the fresh Domain of Portland Maine while there was still some struggle to stabilize the Domain by Prince Dragoon. Max is known to work within the Medical Field in Portland and works tirelessly to aid in combating the troubles and threats to the Ivory Tower. He has witnessed many loyal Kindred fall in the good fight, and seen several changes of leadership but remains resolute.
Whip for the Tremere Clan in Portland, ME September 2006 thru September 2007 Keeper of Elysium to the Domain of Portland, ME September 2007 thru August 2008 Primogen for the Tremere Clan in Portland, ME August 2008 to current.
Coterie
The Tremere in New England seem to have banded together for mutual protection and can often be seen together at gatherings from Maine to Connecticut.
Allies
Enemies
None in particular
Sire
Unknown
Childer
None known
Broodmates
None Known
Character Inspirations
Soundtrack
Quotes
Rumors
While he presents as stiff and formal, Dr. Sanlin has a fantastic sense of humor and quiet, quick wit.