Benjamin Villano y Arcos - Deceased
| | |
| --- | --- |
| Clan | Toreador |
| Position | Primogen |
| Status | 2+1+1 |
| Domain | Fortaleza, Brazil |
| Coterie | None |
| Society | M.U.T.E. |
| Path | Humanity 0000 |
| Player | Pablo Celani |
Overview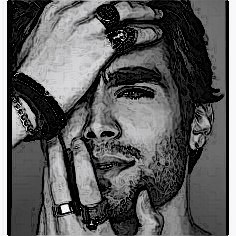 Alias(es):

Real Name:
Unknown
Apparent Age:
25
Concept: Samaritan

Physical description:
Benjamin Villano y Arcos is a blond man with deep blue eyes and an athletic body, which gives him an exhilarating beauty (Gorgeous x5) and unique elegance (Elegant x5).
His silky, blush-like skin blends perfectly with the beautiful, masculine, and extremely pleasing voice (enchanted voice). Endowed with a welcoming look and a friendly leadership expression, the toreador bears himself as a charismatic leader (Natural leader)...



Detailed Status:
Acknowledged (Elder Almerico, Former Prince of Ouro Preto- Brazil)
Ingenious (Valentina Villano y Arcos)
Respected (Primogen of Fortaleza Brazil)
Dedicated - (Member of MUTE)
Character Information
Known History

Benjamin is a Famous Goldsmith (Fame x5), He traveled around the world learning many techniques to improve his art. Ben, is frequently requested to do unique jewels for important persons and events in camarilla. Today Benjamin is a primogen in Fortaleza Domain. Benjamin is member of MUTE

Allies
Archon Miguel Alvarez
Archon Minerva
Elder Jean Luck Matado
Sire
Vallentina Villano y Arcos
Soundtrack
The Weekend - I feel It coming
Ed Sheeran - Thinking Out Loud
Quotes
"Its a pleasure to help you"
"Like us the Jewels are eternal, but its remember us of lost feelings."

Rumors
- He is a nice guy.
- He is a extremely sexy man.
- He can create jewels with beaty beyond limits.
- Gave his non-life to save his allies from the Creatures of Smoke and Shadows.