Asriel Baxter
| | |
| --- | --- |
| Clan | Gangrel |
| Position | Deputy |
| Status | 5 |
| Domain | Curitiba, Brazil |
| Coterie | None |
| Society | ??? |
| Path | Humanity 00 |
| Player | Julio César Nicolodi |
Overview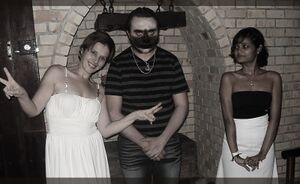 Alias(es):
Caçador, Vento Caçador, Hunter, Hunter Wind
Real Name: Asriel Baxter
Apparent Age: 28
Concept: Grey Hunter
Physical description:Asriel, is tall, strong type, usually wears jeans and black shirt and leather jacket, or coat with hood, always has a hat and a cigar or cigarillos hand. It was viewed more than once in combat wearing cargo pants, vest with ammunition, black shirt and boots.
Asriel has a large mane like a lion, which is sometimes trimmed or tied up, yellow eyes and rounded like a wolf, your nose is a muzzle resembling the muzzle of a cat, specifically a lynx, like the whiskers coming down the side of his face. His mouth is large with all the teeth turned into fangs.
He is reserved, prefers private conversations, at parties and everyone present is where you are invited, and more than once gave parties in their properties. When comfortable for more than once had a feline mannerisms.
In battle has been seen acting as a persistent hunter, assertive and effective, as a wild beast that knows how to use the weapons that your body provides.
________
Asriel, é alto, tipo forte, traja normalmente calças jeans e camisa preta e jaqueta de couro, ou sobretudo com capuz, sempre tem um chapéu, e um charuto ou cigarilla a mão. Foi visto mais de uma vez em combates vestindo calças cargo, colete com munições, camiseta preta e coturnos.
Asriel tem uma vasta juba, como de um leão, que por vezes se encontra aparada ou amarrada, os olhos amarelos e arredondados como de um lobo, seu nariz é um focinho lembrando o focinho de um felino, especificamente um lince, tal qual as suiças que descem ao lado de seu rosto. Sua boca é grande, com todos os dentes transformados em presas.
É reservado, prefere conversas privadas, em festas trata bem todos os presentes onde é convidado, e mais de uma vez deu festas em suas propriedades. Quando confortável por mais de uma vez apresentou maneirismos de felino.
Em batalha já foi visto atuando como um caçador persistente, acertivo e eficaz, assim como uma besta selvagem que sabe utilizar as armas que seu corpo o proporciona.
Detailed Status:

Acknowledged by Don Alejandro, the Steadfast, Prince of Campo Limpo Paulista and Region of Bragantina
Feared by Don Alejandro, the Steadfast, Prince of Campo Limpo Paulista and Region of Bragantina
Valorous by Peregrino de Carvalho, Prince of Parahyba
Vigilant by Isaac Hansen, Prince of Rio Grande
Voracious by Erdota Urmen de Corazon, Prince of Rio Grande
Character Information
Known History
It was the Keeper of Elysium of Campo Limpo Paulista until mid-2010.
In 2009, revealed the intention of a Tremere (Sophia Lana) in destroying one Son of Haqim Pirenópolis of domains, thereby gaining the confidence of this clan in the city.
In 2010, along with Artemis Hilarion, Hagnar Faur, participated in raising political support for the withdrawal of blood from the hunt Thinka de Puridae.
Has fought in several domains against the enemies of the Camarilla, and appears in combat in most major conflicts in Brazilian lands since mid-July 2010.
Participated in the hunting and destruction of a cell in infernalist County of Rio Grande, Brazil.
Participated in the conflicts that led to the recovery at Ground Zero by the Camarilla in Sao Paulo, as well as the destruction of the traitor Gangrel Zymboo.
Was Deputy of the Scorge in Curitiba.
Deceased in 2012.

____________________

Foi o Guardião de Elysium do Domínio de Campo Limpo Paulista, até meados de 2010.
Em 2009, revelou a intenção de uma Tremere (Sophia Lana) em destruir um Filho de Haquim dos Domínios de Pirenópolis, ganhando assim a confiança deste clã na cidade.
Em 2010, juntamente com Artemis Hilarion, Hagnar Faur, participou na arrecadação de apoio político para a retirada da caçada de sangue de Thinka de Puridae.
Já lutou em diversos Domínios contra os inimigos da Camarilla, sendo que aparece em combate na maioria dos grandes conflitos em terras Brasileiras desde os meados de Julho de 2010.
Participou da caça e destruição de uma célula infernalista na Comarca do Rio Grande, Brasil.
Participou dos conflitos que levaram a retomada do Marco Zero pela Camarilla em São Paulo, bem como a destruição do Gangrel traidor Zymboo.
Foi delegado do Algoz em Curitiba.
Morreu em 2012.
Coterie
NA
Allies
Who is your ally, knows this.
Enemies
Sire
Selvagem, but was apparently adopted by Hagnar Faur, for unknown reasons.
Childer
not yet
Broodmates
NA
Character Inspirations
Mr. Darcy, Pride and Prejudice, Jane Austin.
Allan Quatermain, King Solomon's Mines, H. Rider Haggard's 1885.
Soundtrack
Fly by Night, Rush
Carry On My Wayward Son, Kansas
Quotes
Rumors
They say he is obsessed with hunting Lupines.
Rumor has it is a bounty hunter.
Rumor has it working with nature spirits.
There are rumors that was the lover of Artemis Hilarion