Alexander Robbins - Deceased
| | |
| --- | --- |
| Clan | Brujah |
| Position | None |
| Status | 1 |
| Domain | Fortaleza, Brazil |
| Coterie | None |
| Society | None |
| Path | Humanity ??? |
| Player | Robin |
Overview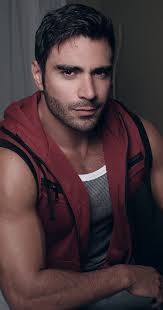 Alias(es):
Robin
Real Name: few know real name - Alexander Robbins (Fame x5 - Don of Brasil)
-- Poucos sabem seu nome real - Alexander Robbins (Fama x5 - ?)
Apparent Age: 25
Concept: A powerful man of mystery and seduction
-- Um homem poderoso, cheio de mistério e sedução
Physical description: 5'11 225lbs, all muscle, streamlined and athletic. Black thick hair, charismatic personality. Clean and always wearing a cologne that is not too strong, but alluring. Appearance-related traits: Gorgeous x 3, seductive x2.
A cold breeze seems to follow him wherever he goes (cold breeze flaw). He always seems to be breathing has a heartbeat, and is warm to the touch.
-- 1,80m, 100kg, todo músculos, definição e saúde. Cabelo preto e grosso, personalidade carismática. Muito asseado e usando uma colônia com uma fragrância discreta, mas sedutora. ((características relacionadas à aparência: Belo x3, Sedutor x2)).
Uma brisa gélida parece segui-lo onde quer que vá (defeito brisa gélida). Ele sempre parece estar respirando e com batimentos cardiacos e seu toque é quente.

Detailed Status:

Detailed Status: Acknowledged - by Ventrue Prince Nikolai of Russia
Primogen of Fortaleza (no more)
Character Information
Robin is an adventurous man, enjoys the company of a beautiful woman, and some consider him a risk-taker. Little is known about Robin, but he holds residency in both Fortaleza and Sao Palo, Brasil.
Robin speaks with a thick and notable Russian accent.
-- Robin é um homem aventureiro, aprecia a companhia de belas mulheres e alguns o consideram impetuoso. Muito pouco é conhecido sobre Robin, mas ele mantém residências tanto em Fortaleza quanto em São Paulo, Brasil.
Robin possui um sotaque Russo bastante pronunciado
Known History
Very little, if any.
-- Muito pouca, se houver.
Coterie
Unknown
Allies
Russian Family
Zenzero
Enemies
Enemies of his Russian Family
Fairies
Sire
Frederick
Childer
None
Broodmates
Unknown
Character Inspirations
James Bond 007
Male Model
Harry Houdini
Eccentric but fun: https://www.youtube.com/watch?v=sfB2NpsKQks
Soundtrack
https://www.youtube.com/watch?v=OPf0YbXqDm0
https://www.youtube.com/watch?v=cBVGlBWQzuc
https://www.youtube.com/watch?v=5GL9JoH4Sws
https://www.youtube.com/watch?v=-FyjEnoIgTM&list=PL2gNzJCL3m__GlTXxM8S32ceEp4-xkvIi
Quotes
"What is one thing you have always wanted to do? I shall make it happen!" - Robin to Koschei
Rumors
Amazing taste in muscle cars. Broken mirrors surrounds him. Deceased