Woody Graham
| | |
| --- | --- |
| Clan | Brujah |
| Position | None |
| Status | ??? |
| Domain | Brazil |
| Coterie | SHARP |
| Society | ??? |
| Path | ??? ??? |
| Player | Player Name |
Overview
Alias(es): "The Rude Boy", "TradSkin", "Bootboy", "Jamaican DJ"
Real Name: Unknown
Apparent Age: Early 23ties
Concept: Traditional Skinhead | Jamaican Rude Boy
Physical description: 1,82 m, caucasian, very human appearance, brown eyes, shaved head and thin.
Detailed Status:
More Information:
Character Information
Known History
Coterie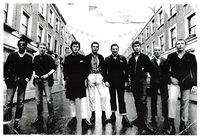 SHARP: SkinHeads Against Racial Prejudice are anti-racist Skinheads who oppose Neo-Nazis and other Political Racists, particularly if those racists identify themselves as Skinheads. SHARPs recognise the biracial origins of the Skinhead Subculture, and resent what they see as the hijacking of the Skinhead name by "White Power Skinheads" - who are consequently designated as "Boneheads" by some SHARPs.
The SHARP logo is based on the logo of Trojan Records, which originally mainly released black Jamaican Ska, Rocksteady, Early/Skinhead Reggae, and Reggae artists. Beyond the issue of anti-racism, there is no official political ideology of SHARP.



Allies
Enemies
Sire
Derek J. Jr., "The Lone Avenger"
Childer
Broodmates
Goran Petrovich, "The Czar" (Missing)
Frank Fury, "The Beast" (Deceased)
Paolo, "The Young" (Deceased)
Character Inspirations
Traditional London Skinheads of 68/69 and 79/82
Soundtrack
Quotes by
"No true Skinhead are racist. Without the Jamaican culture Skinheads would not exist"
Quotes about
Rumors
Suspected to know Obtenebration;
Suspected to know Temporis;