Sif Agnarsdottir
| | |
| --- | --- |
| Clan | Toreador |
| Position | Primogen |
| Status | 5+1 |
| Domain | Annapolis, MD |
| Coterie | ??? |
| Society | ??? |
| Path | Humanity 0000 |
| Player | Desiree |
Overview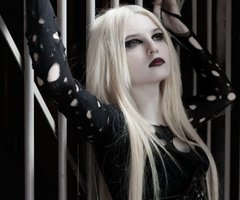 Alias(es):

Real Name:
Apparent Age: Early 20s
Concept:
Physical description: Sif is tall, yet petite, with platinum blonde hair and of seemingly Nordic descent. While a little on the pale side, it is closer to a human standard of pale. Her eyes are a striking silvery gray. Her fashions seems to be ever fluctuating in style.
Detailed Status:

Acknowledged by Prince Hakon Einer of Oslo, Norway
Resplendent by Primogen Max Anderson of Annapolis, MD
Cherished by Primogen Agner Eriksson of Oslo, Norway
Adored by Prince Rook of Annapolis, MD
Adored by Seneschal Juliette Corveaux of Frederick, MD
Revered as Primogen
Character Information
Known History
Sif arrived in the United States in November of 2012 via Norway, slowly adjusting to the different culture. She has risen within the musical community of Maryland as a virtuoso with the violin, even receiving an appointment with a well-respected Orchestra.
Coterie
None
Allies
Rook
Harrow
Evelyn Landrake
Victoria de la Noche
Enemies
Sire
Agnar Eriksson claims her as childe
Childer
None
Broodmates
None
Character Inspirations
Soundtrack
Quotes
Rumors