Rhage
| | |
| --- | --- |
| Clan | Gangrel |
| Position | Primogen |
| Status | 1+1 |
| Domain | Kenosha, WI |
| Coterie | ??? |
| Society | ??? |
| Path | ??? ??? |
| Player | Patrick Frazier |
Overview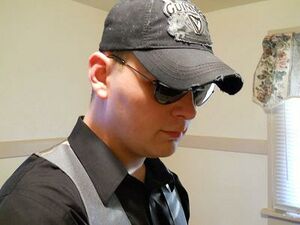 Alias(es):
Rhage
Real Name: unknown except by Rhage himself
Apparent Age: 24
Concept: Soldier
Physical description: 6 foot 6inches tall, Irish red hair cut into a buzz cut, Muscular build, A tribal wolf tattooed on his right shoulder. Turtle eyes and Goat horns.
Detailed Status:


Character Information
Known History
Little is known about Rhage. He was Acknowledged in the Domain of Kenosha in early 2009, and then went for a walkabout. Nothing is known of him while he was on this walk about and nothing is known of him about his embrace or his mortal years except that he was a soldier in the 391st of the United States Army stationed in Korea.
Rhage returned to Kenosha in September of 2010 to find his family in slight disarray. He began his trek to becoming Primogen, finally attaining the seat in late Feb of 2011 after Stick Desylvia awarded him the seat for his potential in the political aspects, and his leadership abilities.
Coterie
Allies
Serafina Gallow
Kiri Kirasu
Striker
Demetrius
Enemies
Sire
Former Sgt. Payne of Echo 210
Childer
none
Broodmates
none that he is aware of
Character Inspirations
Myself, Rhage and Wrath from the black dagger brotherhood series
Soundtrack
"Animal I have become" Three Days Grace
"Monster" Skillet
"Scream Aim Fire" Bullet for my Valentine
"Waking the Demon" Bullet for my Valentine
Quotes
"Those who do not learn from history are bound to repeat it"
"Shoot first, dont ask questions"
Rumors