Miguel Guimarães Passos
To Create your Character Bio follow the below instructions
Click view source at the top of this page
Copy the Template below the Line.
Type your PC name into the Text Box Below
Click Create Bio
Paste the Template into the page
Edit the Template to fit your PC (some examples are given in the template)
Click Save
To upload a Picture, click Here
---
| | |
| --- | --- |
| Clan | Tremere |
| Position | Seneschal |
| Status | 5+3 |
| Domain | Unknown |
| Coterie | Unknown |
| Society | None |
| Path | Humanity ??? |
| Player | Maurício Soares |
Overview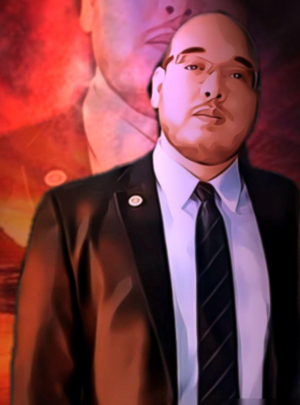 Alias(es):

Real Name: Unknown
Apparent Age: 35 anos
Concept: Tremere Seneschal
Physical description:
Devido a sua natureza em influênciar os mortais no meio empresarial e industrial, muitas vezes Miguel Passos é confundido como um Ventrue para quem não conhece a sua origem. Ele sempre se apresenta educadamente, falando calmamente com todos, sem externar qualquer tipo de emoções que possam ser visto como ranzinza. Tem uma boa relação com todos os clãs de Salvador e sempre está auxiliando os membros da cidade de Salvador quando o procuram. Ele tem 1,85m de altura e pesa uns 100kg. Sua aparência é muito semelhante aos mortais podendo se misturar com facilidade sem precisar usar vitae. Sempre usa seu relógio de pulso Rolex Titanium, ternos (William Westmancott sob medida) e calçados Testonis executivos (sob medida), possui um broche da Maçonaria. Na sociedade mortal é conhecido como um grande empresário e investidor financeiro no estado da Bahia.
Due to its nature in influencing mortals in the business and industrial environment, Miguel Passos is often mistaken as a Ventrue for those who do not know its origin. He always introduces himself politely, speaking calmly to everyone, without expressing any kind of emotions that can be seen as surly. He has a good relationship with all the Salvador clans and is always helping members of the city of Salvador when they come to him. He is 1.85m tall and weighs about 100kg. Its appearance is very similar to mortals and can mix easily without using vitae. He always wears his Rolex Titanium wristwatch, suits (William Westmancott tailor-made) and executive Testonis shoes (tailor-made), he owns a Freemasonry brooch. In mortal society he is known as a great businessman and financial investor in the state of Bahia.
Detailed Status:
Acknowledged (Pietro Villas Boas Prince of Natal)
Well connected (Lazaro Malaquias, Primogen of Salvador)
Respected (Fred Lancaster, Primogen of Salvador)
Loyal (Dmitri Mendeleiev Prince of Salvador)
admired (Vlademir, Prince of Salvador)
Cherished , Esteemed , and Trusted as Seneschal of Salvador - BA (Brazil)
Character Information
Known History
Former Primogen under Prince Nichollay D Borgon of Salvador - Bahia - Brazil 2014-2015
Former Primogen under Prince Jose Alfredo of Salvador - Bahia - Brazil 2015-2016
Former Prince of Salvador - 2016-2017
Former Primogen under Prince Dmitri Mendeleiev of Salvador - Bahia - Brazil 2017-2018
Current Seneschal under Prince Vlademir of Salvador - Bahia - Brazil
Coterie
Unknown
Allies
Enemies
Unknown
Sire
Childer
Unknown
Broodmates
Character Inspirations
Unknown
Soundtrack
Pecado capital (samba, 1976) – Paulinho da Viola
Carmina Burana – Carl Orff
Quotes
"Just like natural evolution, it is also true for companies that they are not the strongest to survive, but those who adapt most quickly to changes."
"Rule number 1: never lose money. Rule number 2: don't forget rule number 1."
Rumors
has influence on Brazilian Freemasonry
Wishes to consolidate the Tremere influence in Bahia
Has links with members of African-based religions