Dorrian D. Livius
| | |
| --- | --- |
| Clan | Malkavian |
| Position | Seneschal |
| Status | 1+2 |
| Domain | Jerusalem |
| Coterie | ??? |
| Society | ??? |
| Path | Humanity 000 |
| Player | Bram |
Overview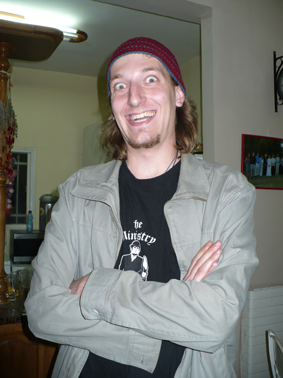 Alias(es): D.
Real Name: Dorrian D. Livius
Apparent Age: 25~
Concept: Loyalist
Physical description: Average European student, baggy clothes, lots of black, always wears a hat.
Detailed Status:

Acknowledged by Hendrick Kincaid, Prince of Amsterdam
Esteemed and Cherished by the office of Seneschal
Known History
Arrived to Jerusalem at 2008 for unknown reasons. Has since became a primogen a month after arriving, only to become Seneschal two years later. Is known to suffer amnesia and flashbacks that take him back to unknown eras.
Coterie
Allies
Enemies
Sire
Childer
Broodmates
Character Inspirations
Dorian Gray - The picture of dorian gray
Earnest - The importentce of being earnest
Lord Algy - The importentce of being earnest
Many people i met in real life who are completely insane...
Soundtrack
Quotes
"Remember you can do anything you wish, but even Llama's don't dig up mountains"
Rumors