Byron Gautier
| | |
| --- | --- |
| Clan | Nosferatu |
| Position | Primogen |
| Status | 5 |
| Domain | Springfield, IL |
| Coterie | N/A |
| Society | N/A |
| Path | Humanity 000 |
| Player | Rick Starkweather |
Overview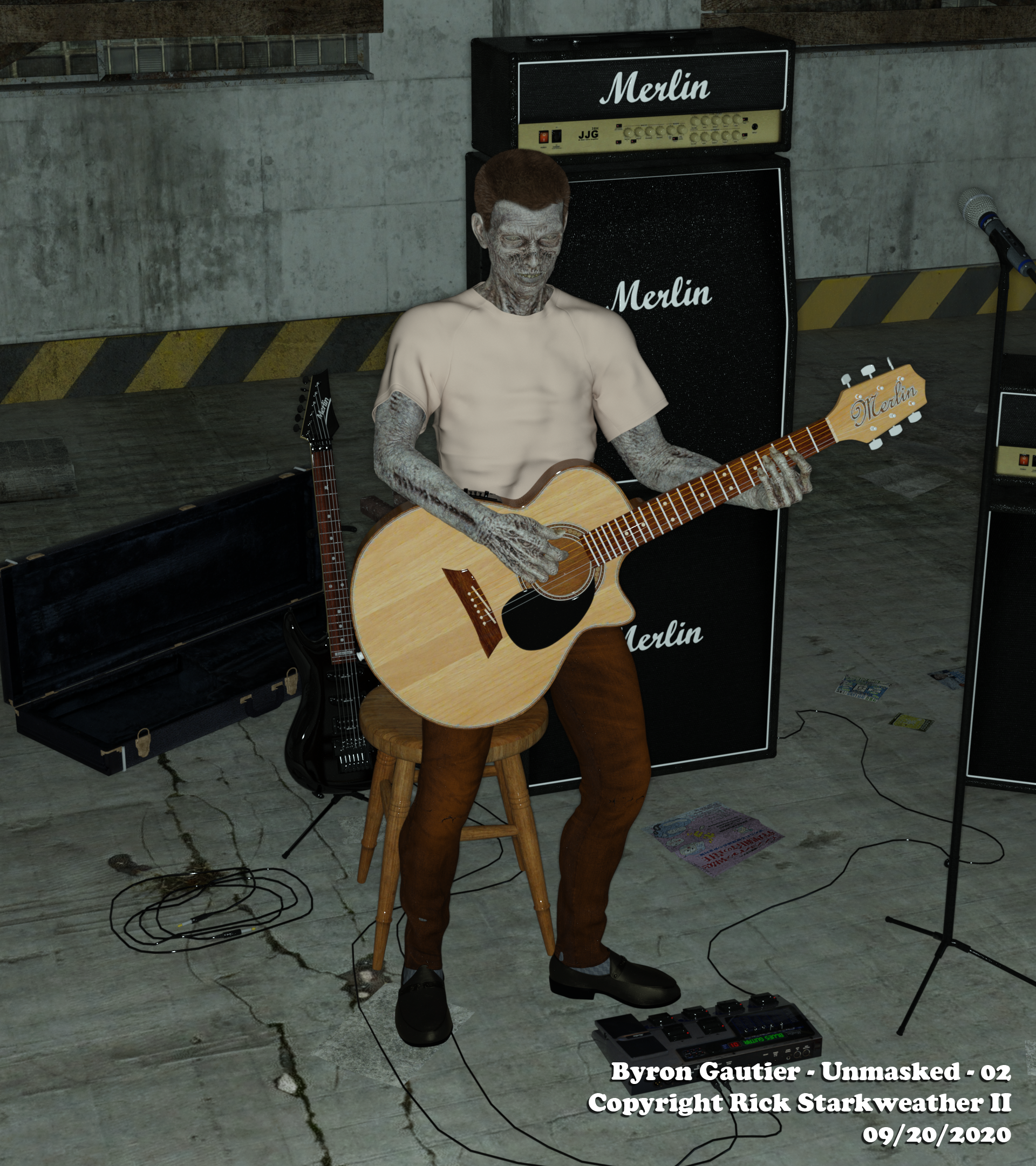 Alias(es):
None that are known publically.
Real Name: Byron Gautier
Apparent Age: Twenty-eight
Concept: A political think tank, originally, now Phantom of the Opera.

Physical description: While unmasked, Byron looks to be about a charred up corpse but a usually well dressed one. He, more often than not, carries a "Phantom of the Opera" style half mask and is almost always seen with a guitar case that holds either an acoustic Gibson or Cordoba Hauser Spruce Top Classical Guitar (though, on rare occasion, it houses a Fender Stratocaster that was custom ordered).
While masked, Byron bears a faint resemblance to Humphrey Bogart.

Detailed Status:
Acknowledged, Admired, Influential, Loyal, Revered (As Primogen)

Character Information
Known History
Born in the bayou not far from Slidell, LA, Byron Gautier moved to the west coast to pursue an acting career in the mid-1920s. With the advent of the "talkies", he was looking forward to showing off his musical talents when fate intervened. A ghoul jealous that he'd not been chosen to be embraced by his Toreador sire sabotaged Byron's Model A then tried to burn him alive. The Toreador was so shaken by Byron's appearance that he declined to embrace him and accepted a trade with the local nosferatu who'd noted Byron's dealing with local politics. So, instead of becoming a rose, Byron became a Nosferatu. His appearance changed little.
Byron, surprisingly, holds little enmity for the Toreador and, due to a recent encounter with Archon Incisus, has flourished in his artistic talent.
Allies
Prince Moira O'Reily
Jennica Sparrow
Lady Moore
Gary Kowaleski

Character Inspirations
Josh Lyman from "The West Wing"
Billy Joel
James Taylor
Tom Ellis's portrayal of "Lucifer"

Soundtrack
"Sinner Man" by Nina Simone
"Ave Maria"
"Hallelujah" by Leonard Cohen
"Spanish Romance" by Fernando Sor
"House of the Rising Sun" by Eric Burdon and The Animals
"Shape of My Heart" by Sting

Quotes
"That's Gautier, not Gauttier. Only one T. We were too poor to afford the second T."
"Sure, cher, I'll play you a song."

Rumors
Byron speaks fluent Creole and a few other languages.
Byron has been seen taking selfies with people and yet, somehow, it's his masked face.