Morgan Trevani
From Camarilla Wiki
| | |
| --- | --- |
| Clan | Tremere |
| Position | Primogen |
| Status | 6+2 |
| Domain | Annapolis, MD |
| Coterie | ??? |
| Society | M.U.T.E. |
| Path | Humanity ??? |
| Player | Ben R. |
Overview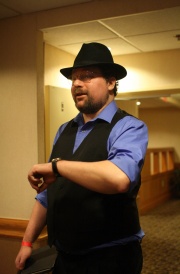 Alias(es): None Known

Real Name: Unknown
Apparent Age: Late 30s
Concept: Mathematician
Physical description:6'6", brown hair and beard with the beginning of grey, hazel eyes. Typically dressed in slacks, button down, and vest with pocket watch
Detailed Status:
Acknowledged by Prince Nanuk
Knowledgeable by Sovereign Prince Fiona MacGregor
Dedicated by Sovereign Prince Rommell
Revered by position of Primogen
Dedicated as a M.U.T.E. Specialist
Vigilant by Sovereign Prince Rook
Respected by Prince Jorge Martinez
Discerning by Prince Evelyn Landrake

Character Information
Quiet and generally polite, Morgan generally spends most of his time watching and paying attention, before doing something.
Known History
Morgan put in his first public appearance at Kindred gatherings in January of 2015 in the domain of Annapolis. He spent some months as a deputy Sheriff. He spent time as Deputy Sheriff with Sheriff Viktor and Sheriff Vitale Koslov. Morgan was appointed Keeper of Elysium in January of 2017, and joined M.U.T.E. a few months later.
Coterie
None known
Allies
Doctor Annabelle Adams
Saskia Dietrich
Nadine Bonaventure
Enemies
None known
Sire
Not spoken of
Childer
None known
Broodmates
None known
Character Inspirations
Charles Epps in Numb3rs
Patrick Jane in The Mentalist
Percival Rose in Nikita
Soundtrack
Nina Simone, "I Put a Spell on You"
"Amazing Grace"
Quotes
"Because the universe sings..."
"Strega della stella di mattina..."
"Would you like me to run that through the program?"
"I'm happy to help out...but if I had some more specific information, I would be more effective..."
Rumors
May be in some way related to Dr. Annabelle Adams.
May be working as a servire to Justicar Lotharius.
Morgan's first proposed solution to problems is usually some form of Dominate.