Saskia Dietrich
From Camarilla Wiki
| | |
| --- | --- |
| Clan | Tremere |
| Position | Archon |
| Status | 6+3+1 |
| Domain | Berkeley, CA |
| Coterie | None |
| Society | None |
| Path | Humanity 00 |
| Player | Lauren |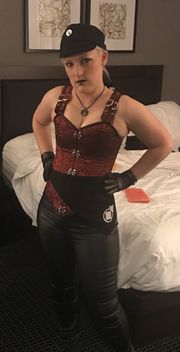 Alias(es): Saskia Dietrich
Real Name: Unknown
Apparent Age: 25
Concept: Treasure hunter, Thrill Seeker, Scholar
Physical description: Petite German woman with wavy blonde hair and piercing blue eyes. She has been noted to stand in a very militaristic way as well as wear black leather gloves and a red coat.
Detailed Status:
Acknowledged by Prince Silvester Durgen, Munich, Germany
Gracious by Rosamonde Kurlein
Admired by Winston Warchild
Indispendable
Ingenious by Prince She That Burns As the Sun (Sunny)
Resourceful by Prince Dorrian Grey
Dignified member of the Camarilla (Dignitary merit)
Feared as Archon
Loyal as Archon
Empowered as Archon
Character Information
Intellectual and observant, while still attempting to keep up socially with others around her. She will tend to listen to a conversation carefully before joining so as to assess the social "mood". Saskia regularly assists Camarilla domains, and has been known as an effective asset in combat situations. In her spare time she can be found either street racing motorcycles,or reading a good book.
Known History
Originally from Munich Germany, she has recently come to Sonoma County for further research and studies.
Shortly after arriving in Sonoma County, she was named Whip under Primogen Ripley.
After an incident, she took the position as Primogen of Clan Tremere.
She took a short recess from the Primogen seat, but was reinstated at the departure of Winston Warchild from the domain.
As Primogen, she has suggested inter-clan projects to the Primogen council to promote team work and togetherness on multiple occasions.
Later she was named Keeper of Elysium in the domain of Greater Santa Rosa.
After moving to Berkeley, CA she took the Primogen seat.
In 2017, she was named Archon to Art Morgan.
She co-owns a classic automobile and motorcycle showroom/shop in Santa Rosa known as Sonoma Classics with Seamus.
Saskia is a well known motorcycle street racer in the San Francisco Bay Area.
Coterie
Allies
Anđela Radic
Dr. Edward Cummings
Rosamonde Kurlein
Winston Warchild
Zaftig
Seamus Sweeney
Nasir
Dr. Reinhardt
Peter Premysl
Frederick Gold
Rosamund Elise Kingsley
Elliot Maxwell
Michaelangelo Archadia
Michael Crison
Marcel D'Olivier
She that Burns As the Sun (Sunny)
Pitbull

Enemies
Sire
Unknown
Childer
Broodmates
None
Character Inspirations
Dr. Elsa Schneider, Indiana Jones and the Last Crusade
Ilsa Haupstein, Hellboy
Soundtrack
Somewhere Only We Know - Keane
Into the Void - Nine Inch Nails
Quotes
In regards to the internet: What is the "Google"?
Rumors
Probable ties to the Nazi Party as a mortal.
Enjoys Goose stepping as a past time.
Could potentially know any language you do.
Advocates punching Nazis!
Is involved with Elliot Maxwell.