Thurl FitzGibbon
From Camarilla Wiki
| | |
| --- | --- |
| Clan | Caitiff |
| Position | Deceased |
| Status | 5 |
| Domain | Buffalo, NY |
| Coterie | ??? |
| Society | ??? |
| Path | ??? ??? |
| Player | [KrisP] |
Overview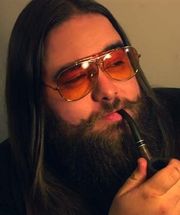 Apparent Age: 26
Physical description:
Recently seen wearing a very well crafted (crafts x5) clockwork left hand...juggling has improved.
Detailed Status:
Character Information
Fame: 3
Known History
After years of short stays in small cities Thurl finally settled down in Buffalo in 2007.


Named court Fool by Anton Sophy [Ventrue] - Deceased (no prince has yet stripped this title, nor complained about having a caitiff in an archaic court position wandering around their elysia)
Seneschal under Alex Mancusso [Nosferatu] - Deceased
Seneschal under Corey Ashford Buchanan III [Brujah] - Gone Anarch
May 2011 Adopted locally by Clan Malkavian
October 2011 Named Warden by Prince Eddie Carlson
Coterie
a few you've never heard of and that didn't do that much anyway
Allies
Enemies
Gregory Chivalric (deceased)
Sire
Narada (aka the Sage)(NPC)
Childer
Broodmates
???
Character Inspirations
Stranger in a Strange Land Robert A Heinlein
Quotes
"In a different timeline I was killed by the Sabbat, but that is neither here nor there."
Rumors
Runs a caitiff boarding house
Runs a caitiff coterie
Links