The Herald
From Camarilla Wiki
| | |
| --- | --- |
| Clan | Malkavian |
| Position | None |
| Status | 2+? |
| Domain | San Francisco, CA |
| Coterie | None |
| Society | ??? |
| Path | Humanity 00000 |
| Player | Darren |
Overview

Alias(es): The Herald
Real Name: Unknown (to most)
Apparent Age: 36
Concept: Neonate Prophet
Physical description: Unremarkable, plain looking, often bedraggled and very dirty. Fits in well with the homeless. Usually wears a coat with lots of things in the pockets. Known to violently shake spoons and prognosticate with Pez dispensers.
Detailed Status:


Character Information
Known History
STILL IN PROGRESS

Coterie
Allies
Enemies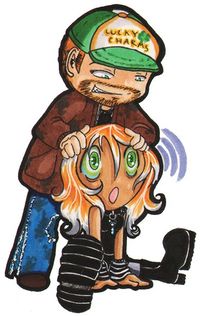 Sire
Unknown
Childer
None
Broodmates
Character Inspirations
Soundtrack
Quotes
Rumors
Apparently he's going to die with his hammer in his hand, whatever the hell that means.
Herald seems very attached to his spoon.
Herald once gave Peter Premysl a fork, no one knows why.
Herald is monitored closely by the Tremere.
Punched Virgilia Two-Tails out of the back of his van during a drug deal.
He licked an anarch during the grand elysium
May be haunted by his dead family
Isn't as pure as he claims to be
Is WAY purer then he appears to be
Herald stands in good stead with the Kuei Jin (God knows why!)
The Herald once foresaw the coming of weresharks.
The Herald uses telepathy like his primary language, and all spoken languages are secondary.
Best accountant you can find.
The Herald has felt up half of the court officers in both San Francisco and Berkeley, including Zaftig, Susanna Angel LaRouge and Mark Richardson
The Herald has foreseen San Francisco's doom in a cursed painting!
Was Geoffrey Tanner 's secret lover, but spurned him. Tanner has sworn vengeance!