Tazia Kassel
From Camarilla Wiki
| | |
| --- | --- |
| Clan | Malkavian |
| Position | None |
| Status | 3 |
| Domain | Savannah, GA |
| Coterie | White Stockings |
| Society | ??? |
| Path | Humanity 000 |
| Player | Amber |
Overview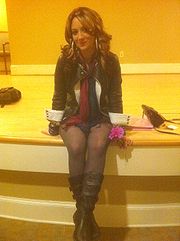 Alias(es):
None
Real Name: T'shaya Yelena Anushka Kalderasha
Apparent Age: 22
Concept: The Gypsy
Physical description: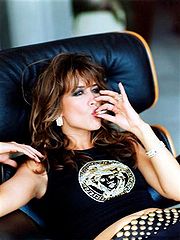 Detailed Status:


Acknowledged by Marcos Belegrad, Prince of Bogota, Columbia
Crafty by Oscar Diggs, Prince of Savannah, GA
Character Information
Known History
A Russian-born Malkavian, little else is known of Tazia's mortal life and embrace. She claims to have traveled extensively in Europe and South America before coming to the United States.
Coterie
White Stockings (Beliye Kolgotki)
Allies
Enemies
None
Sire
Dr. Waldemar Wolter (deceased)
Childer
None
Broodmates
None
Character Inspirations
Lamia Sbaity
Soundtrack
"Colorful" Rocco deLuca & the Burden
"Precious" Depeche Mode
"Blood Makes Noise" Suzanne Vega
"All of This Past" Sarah Bettens
"Cassandra" The Cruxshadows
"New Soul" Yael Naim
"Like Suicide" Soundgarden
"When I Grow Up" Garbage
"Open Road Song" Eve 6
"Leave (Back Up)" Stereomud
"Bleed it Out" Linkin Park
Quotes
Rumors
Is a blood relative of the famous Gypsy writer Nikolay Aleksandrovich Pankov.
Is actually the reclusive Mala Simza, a Romani spy employed by unknown government agencies.
Secretly has a romance with the lead singer of the gypsy rock band, Gogol Bordello, and serves as his muse.
Theories as to the year the world will end amuse her, as Tazia has foreseen the moment, herself.
Seems to enjoy hooking emotionally vulnerable men, and later devastating them. This has led to some unfortunate "stalker" situations, but Tazia feels it is worth the trouble.