Michelangelo Bressati
From Camarilla Wiki
| | |
| --- | --- |
| Clan | Brujah |
| Position | None |
| Status | 2 |
| Domain | Curitiba, Brazil |
| Coterie | None |
| Society | ??? |
| Path | Humanity - |
| Player | Leandro |
Overview
Alias(es): Michelangelo, Sr./Mr. Bressati, Bressati
Real Name:
Apparent Age: 31
Concept: Businessman / Homem de negócios
Physical description:
Sempre com seu terno preto feito sob medida que ressalta sua altura, sua presença é de longe marcada pelos óculos escuros ou tapa-olho, o cavanhaque e um charuto cubano, segurado pela mão direita qual ostenta um grande anel de prata com um ruby. O cabelo loiro e penteado para trás agora é coberto por um chapéu clássico negro e sua voz de barítono dão o toque final em sua aparência intimidadora.
Detailed Status:
Acknowledged by André Sampaio, Prince of Laguna
Loyal by James O'Brian, Prince of Curitiba

Brujah apenas:
Visionary by James O'Brian
Character Information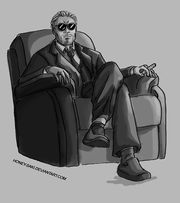 Known History
Tornou-se Primogênito Brujah de Florianópolis em Dezembro de 2010.
Luis Eduardo nomeou Michelangelo como seu Senescal em Junho 2011.
Perdeu seus prestígios e posição depois de um problema com a Harpia.
Tornou-se Secretário Brujah de Florianópolis em Setembro de 2011.
Deixou Florianópolis, depois de certos envolvimentos em escândalos, em Janeiro de 2012.
Participou da defesa do Rio de Janeiro contra diversos antagonistas da Camarilla em Março de 2012.
Passou a frequentar os salões da Camarilla curitibana a partir de Maio de 2012.
Breve momento como Xerife de Curitiba no final de 2012.
Coterie
Unknow
Allies
Joey Kropotkin Deceased
Enemies
Lucas Viccari Deceased
Sire
Childer
Broodmates
His broodmates
Character Inspirations
Soundtrack
Morphine The Night
Nino Rota The Halls Of Fear
Quotes
Política! (amarrado, da cabeça aos pés, com um saco na cabeça)
Rumors
Seu maior sonho é ser Príncipe.
Negocia e é associado com os Tremere.
Negocia e é associado com os Asssamita.
Negocia e é associado com os Nosferatu.
Negocia e é associado com os Gangrel.
Não gosta de policiais.
Atacou uma Harpia. O ataque falhou, foi declarada Caçada de Sangue para a Harpia, que depois foi revogada pelo mesmo Príncipe.
Ficou com graves sequelas depois de um ataque mental feito por um Malkaviano numa festa sediada pelos Filhos de Haqin no Vale das Sombras.
Ouviu-se que é deselegante ao ganhar presente.
Dizem que ele não consegue matar seus inimigos.